Exclusive Video Premiere: Centro-matic's marching "Iso-Residue"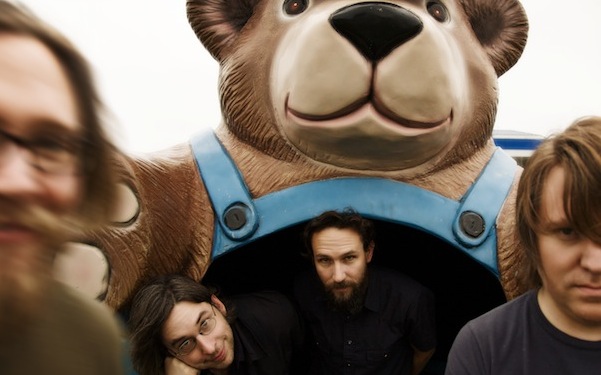 Posted by Grayson Currin on
video player loading
.
.
.
"Iso-Residue" is the shortest song on the 10th album by Texas rock quartet Centro-matic by nearly a minute. In its 140 seconds, though, it covers both a lot of ground and, really, no ground at all. Its work is its swagger and pace, moving with a jubilance and conviction that's enviable; like a perfect punk jam, it triumphantly plants its hook, takes a solo, restates it and gets out of the way. You'll remember how it sounds. The lack of movement comes in Will Johnson's lyrics, a look at two folks whose love for each other is causing them to grind their gears and get nowhere. But they're trying, an aspect Johnson holds dear in his songs.
We caught up with Johnson in Tennessee to talk about life on the road and Centro-matic's great new album, Candidate Waltz. The album is out June 21st.
By this point, you've made a lot of solo records, a lot of Centro-matic records, and a lot of South San Gabriel records. What's your favorite thing about leading the old rock band through a new album?
It's more about exploring the relationship between songwriting and volume–more of a physical event writing Centro-matic music for me than writing for South San Gabriel or solo. That's a little more subdued and a little more introspective. But writing Centro-matic songs, especially the songs for this record, it was a truly joyful, kidlike experience. I set up a bunch of gear in the kitchen in my old house in a small town in Texas, and I bounced from amplifier to amplifier. Much of it was written on an overdriven bass guitar, which is such a loud but joyous way to write. If I have to pinpoint what the writing is like for each project, I would say that the Centro-matic songs these days are real, front-of-the-brain, unbridled, childlike joy.
That said, a lot of those songs are still about doubts and uneasiness. What's the balance like for you, between joy and worry, in rock music?
Maybe it's just my little outpost, but that's a lot of what life is about to me. It's about keeping the negative and fearing the worst but hoping for the best. Sometimes, I think the songs harbor some of those emotions. The language or the overtones might feel a little bit negative or sad or sorrowful or even just suspicious, but at the same time, hopefully there's still an element of hope and positivity. Without a doubt, that's a pretty common thing about a lot of my favorite writers–not just songwriters, but writers in general. I try to balance those two a little bit and sometimes have them test each other, either through a scenario in a song or through characters or through a setting. I try to set them up against each other and test the limits.
"Iso-Residue" seems to be a song about two people stuck in a situation that's not quite satisfying. So why turn it up and make it such a pop tune?
That song in particular deals with two individuals who are making do with one another at a certain stage. It's got a little bit of a raised-eyebrow feel to it. There's a little bit of suspicion between the two characters in the song, but ultimately, the characters only have each other. They're figuring out how to proceed and how to make things better. There are clearly some communication problems between these two folks. At the heart of it, I really just wanted to write a quick, catchy pop song that I knew our band would latch onto pretty well and pretty quickly. While I have definitely discussed and analyzed that song as much as I ever have right here with you, at the core of it, I wanted to write a fun, bouncy pop song.
How did the band respond to that song, and, in general, what's Centro-matic's process of taking songs from your mind to the stage?
It's different from song to song, but with a song like that one, when I was writing it, it was really easy for me to envision playing that one and getting it ready to perform very quickly. The instrumentation is not terribly complex. It's not a heavily layered recording. It's just a song that I pictured us playing pretty soon. And we did. We got right to it, started playing it out live almost a year and a half ago. We recorded it and then went out and started playing it live. It was recorded not even a month and a half after it was written, so there was a pretty quick turnaround from the writing to the recording. Six months after we tracked it, we were starting to play it live.
That short turnaround is notable here, because the video does seem to focus so much on your touring life–set lists and travel and backstage shots. When you wrote this song, did you know it was something you wanted to get onstage with the band?
Definitely. It's a pretty quick and bouncy little pop song. That video comes from the soul and the eye of our drummer and recording engineer Matt Pence. He documented so much of this Spanish tour that we did back in November. He has such a talent for catching some of those moments on tour that a lot of people don't necessarily get to see. Some of those moments are beautiful and serene, like when we have a little bit of time during one of the drive days and we get to the beach. It's a spiritual hour, so to speak.
Others are your typical backstage settings where, frankly, you hang out and wait for the show to happen. You make jokes or play with food or read books. It's a very appropriate document of our band's life on the road during that time. There's some other footage that he took from our New Year's Eve show in Dallas at this old theater with our friends Slobberbone. It's a little bit of a document that came out of a couple of months of our band's life. A lot of our friends know that we go overseas to play shows, but they don't know more than the stories we might come back with. To have a video souvenir of some of the daily life we experience on those European tours hopefully adds a little bit of dimension to our ongoing story as a band.
In Raleigh a few years ago, there was an art exhibit called 23 Hours, part of which focused on that idea for rock bands. You travel around, living your life, but you're only judged for a very specific hour of each day by the public.
It's easy for folks to forget that there are these other 23 hours of the day for a lot of maintenance–to keep the band afloat, to keep going. 2004 was a really have touring year for me personally. Just as a fun math problem, I added up all the driving mileages and the flights from that year. After adding it all up and averaging about 70 miles an hour or so, I calculated it to where I spent the first 71 days–if you started at January 1st, at midnight, and calculated it with a clock and a calendar–of that year driving or flying or riding, just in transit. You know how much time was spent on stage, actually performing? Just slightly over 10 full days. That's just driving; that's not waiting around in the club or any of the other killing of time that happens inevitably during your typical day. It was a pretty sobering realization.
How do you spend this free time on the road?
It gives me a chance to really concentrate on our music and to relearn old songs and to take some notes for some new songs, for sure. It's a little bit of time to read and really just catch up with the guys. We haven't done any significant U.S. touring now for years. To tell you the truth, it's great to all get back together and catch up and tell a few stories and play music again. It's pretty simple.
Your new role as a father probably figures into how you use your time with the band, right?
Definitely. It's not a complaint. It's just a fact of life, a product of evolving as an adult and as a parent. Having a child is definitely the coolest, greatest thing I could've ever hoped for. It definitely puts everything in perspective. It makes you realize how small some of things you used to fuss about truly are. That said, it's definitely a lot of work, too. I'm definitely in full-time dad mode when I'm home. The writing doesn't happen quite as whimsically or spontaneously as it used to. I really do have to make an effort to carve out the time. It's a little different layout than it was a few years ago.
Do you ever think about the time your favorite bands spend away from the stage on the road? Seem exciting or monotonous?