Catwoman Scratches Her Way Into "Batman: Arkham City"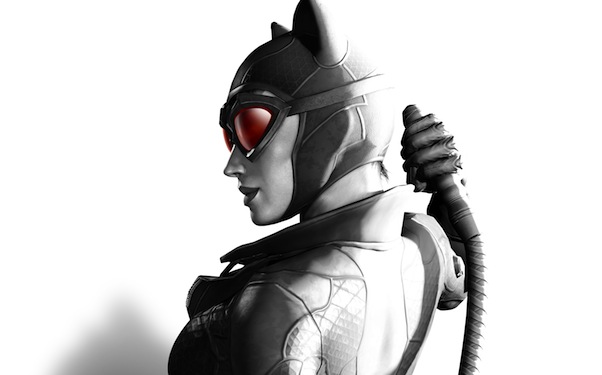 Posted by Evan Narcisse on
We've already seen how Batman's next video game adventure takes place in a gigantic super-prison carved out of half of Gotham City. But one criminal goes into the rechristened Arkham City of her own accord. Things wind up badly for Catwoman and one of the early mission previewed for press had Batman saving her from schizophrenic former ally Two-Face. But, it turns out that Catwoman doesn't do damsel-in-distress very well. The slinky super-thief's going to be playable in the follow-up to "Batman: Arkham Asylum," with a style all her own.
Selina Kyle's mischievous alter ego doesn't wear a cape (anymore) and so has to get around the sprawling environs in a different way. Using her whip as a grapple, players will be able to execute timed swings to fling yourself around the city.. the better your timing, the faster you travel. She'll also had the equivalent of Batman's Detective Vision ability, only her Thief Vision shows valuables littered through the environment. Part of her missions with require thievery and you'll need to stick to the shadows and use stealth in much the same way as when playing with Batman himself. Seeing as how publisher Warner Bros and developer Rocksteady Studios have been adamant about saying "B:AC" will be a solo experience, the Catwoman reveal comes as a welcome surprise.
Are you hopeful that there will be other playable characters in "Batman: Arkham City"? Let us know in the comments below or on Facebook or Twitter.