Can "Duke Nukem Forever" Possibly Be Worth The Wait?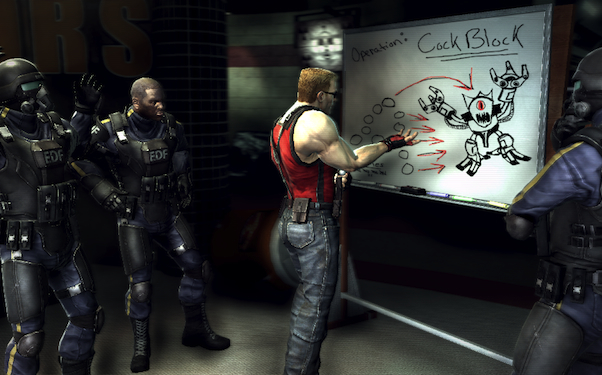 Posted by Evan Narcisse on
Here's a little bit of what happened in the world since "Duke Nukem Forever" was announced in 1997:
• Apple's now the world's most profitable and influential tech company
• Social networking and the mobile web–thanks to Twitter, foursquare and Facebook–make our lives more interconnected than ever before.
• A Black man ran for President of the United States and won.
• Video games have become a cultural force on par with movies and music.
A lot has changed, but Duke hasn't. That's bad. Now that the game's finally on store shelves, critics are savaging it as a barnacle-covered relic that might've been better left in limbo. I've played a fair chunk of it and, honestly, they're not wrong. "DNF" looks and plays like something that's about seven to eight years too late. Oh, it's crudely humorous at moments and makes fun of itself often. But whatever entertainment value that stuff has gets undermined by gameplay that's glitchy, rote and boring. The question that comes to mind is why should "Duke Nukem Forever" exist?
Part of the answer is the accumulation of snark that surrounded the game. Let's say three years is a long time for a game to be in development, acknowledging the fact that it's probably already being worked on when it gets announced. By the time the Aughts hit and Y2K panic subsided, folks were scratching their heads at the lack of Duke. As the wait continued, the interminable delay became a meme unto itself. "Duke Nukem Forever" became gaming's Bigfoot: it might exist but the idea of its elusiveness was the most attractive thing about it.
That's why the surprise unveiling of "Duke Nukem Forever" at the PAX fanfest about a year ago shook the nerdsphere. Not only did it exist, it was playable. You could walk right up and touch it. The man responsible for the resurrection was designer Randy Pitchford. Pitchford–the CEO of dev studio Gearbox Software–worked at Duke's original home 3D Realms during his days as an apprentice game-maker. It's a tough spot to be in if you're Pitchford. When the crowning achievement for a character associated with entry into your career might languish eternally incomplete, it seems like an obligation to finish pushing the baby through the birth canal. But when Pitchford brought the rights and intellectual property for the "Duke Nukem" franchise, it wasn't just teary-eyed emotional attachment at work. People still respond to the memories of Duke Nukem games and that "DNF when hell freezes over" meme amounted to years and years of free publicity. But, as the final product shows, publicity doesn't equal development time.
The closest pop culture analog I can think of is "Tron: Legacy." With the original "Tron," you had a nerd artifact tied closely to the technology of its time, both in the text and means of production. Old-school "Tron" never raked in the cash but it burned its way into a generation's hearts for speaking to the live-in-the-computer fantasies that millions were having in the '80s. Likewise, the Duke Nukem games brought the randy, screw-'em-all energy of a decade's popcorn flicks into players' hands. Sure, you were gun-toting heroes before Duke but, this guy, he threw down in strip clubs, drank beers and talked trash all the way. The Duke persona was the perfect redoubt for gamers who felt that they were outgrowing Mario and Sonic. That wave was a great one to ride in the mid-to-late 1990s, but it crashes really hard in 2011. The difference between "Tron: Legacy" and "Duke Nukem Forever" are obvious but are worth drawing out. Even if it didn't call out the new digital reality terribly, the new "Tron" at least reflected the passage of time and looked like an ultra-modern update. "DNF" jokes at its own expense but the jokes just underscore how dated the whole thing feels.
Last week at E3, I had dinner with a few friends. Among them was Cheo Hodari Coker, who's currently a producer on the cop drama Southland. Coker's been a cultural critic and screenwriter and regaled me of a story where he was paid to hang around with Sean "Puffy" Combs and cook up ideas for a movie. This was around the time that Puffy's first solo album was coming out and Mr. Combs floated the idea of naming it "Forever." Coker tried to impress upon him what a bad idea that was by rolling out examples of how putting "forever" in an album title doomed the artist to irrelevance. Bobby Brown's "Forever" precedes a long ugly fall into obscurity and an uglier return to reality TV. "Wu-Tang Forever" foreshadowed the break-up of the Staten Island shaolin MCs. And, of course, Puffy's "Forever" bore out the idea that he might be a better shaper of talent and promotion than an actual performer.
Now, Duke's not a hip-hop or R&B star but he's not part of that august body of "Forever" eff-ups. However, he may yet find the kind of redemption that keeps, say, R. Kelly on the charts. A new Duke game built from the ground up with modern sensibilities may give the King his swagger back. But, to really rekindle gamers' love affair with Mr. Nukem, Gearbox may have to make Duke or the world surrounding him more sophisticated. Whatever shape Duke's future takes, the games are going to have to be different if players are going to, in the words of the an himself, come get some.