An Unbridled Conversation With "Buck"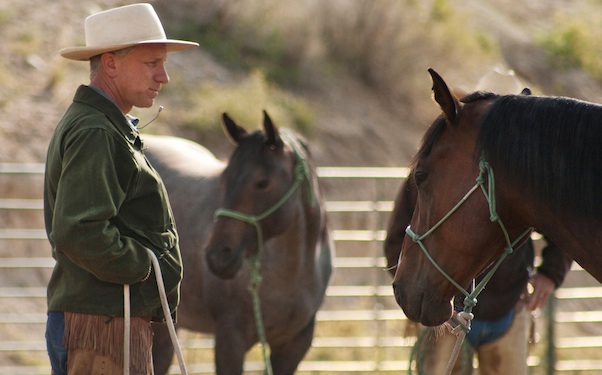 Posted by Matt Singer on
I have ridden a horse exactly three times in my life. Once I almost got thrown, once our entire group got lost on the trail, and once I got saddled, no pun intended, with Watusi the Farting Horse. That was the ranch's nickname for him, by the way, not mine, but he certainly earned it. Oh, how he earned it.
In other words, I don't have a great deal of love for horses. I don't imagine them as grand or majestic creatures; I think of them as stinky mounts of the damned here to emotionally scar camp kids for life (You hear that Watusi? I can never enjoy 60s dance crazes without thinking of horse farts because of you! Yes, I am berating a horse on the Internet. Like I said, scarred for life.) Maybe that's why I liked the new documentary "Buck," about legendary horse whisperer Buck Brannaman, so much: because I didn't expect to like it. Even for a city slicker like me, its subject is fascinating.
Brannaman is the guy when it comes to horse whispering. The titular character of the famous novel by Nicholas Evans is based on him, and when Redford adapted the book into a film of the same name, Brannaman was his technical advisor and even a stunt double. The documentary shows his life on the road, teaching seminars all over the country, and recounts the dark childhood that helped make him the man he has become. And, as you'll see in our interview from South by Southwest 2011 with the star and his director, Cindy Meehl, Brannaman is also one hell of a snappy dresser.
"Buck" opens in limited release this Friday. If you see it, we want to hear what you think. Tell us in the comments below or on Twitter and Facebook!