"Brothers in Arms: Furious 4" Channels "The Dirty Dozen" And "Inglorious Basterds"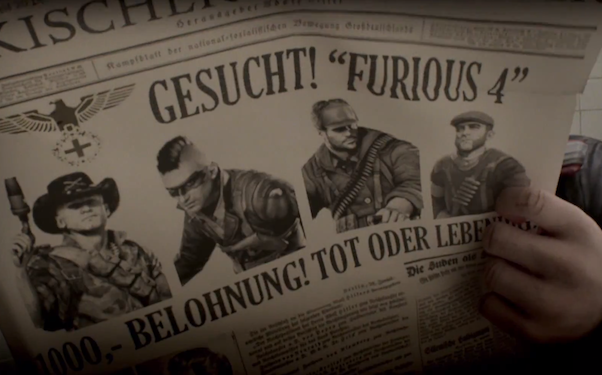 Posted by Evan Narcisse on
No other cultural production is as earnest as the ones that revisit World War II. Whether it's fiction like "Saving Private Ryan" or documentaries like the classic "The World at War," most works that look back at Allies vs. Axis approaches the war with hushed tones of reverence and appreciation. Games haven't been any different, with the previous iteration of EA's "Medal of Honor" franchise (created with help from Steven Spielberg) and early "Call of Duty" games as best examples.
But, a new UbiSoft title that debuted at E3 2011 flies in the face of all that rectitude. Developed by Gearbox Software, "Brothers in Arms: Furious 4" gives gamers a quartet of soldiers fighting Nazis in a pulpy, purple shooter that goes way over the top. Just by the official description alone, you already know that Furious 4 will be lass than faithful to the history books:
The story follows four fierce and fearless warriors tracking the Führer himself. As one of the Furious 4, players will use special weaponry and unexpected combat abilities to fight the greatest threat the world has ever faced: an experimental Nazi army conceived in secret by the Third Reich."
That experimental army means that you'll be fighting Nazis with jetpacks. Which involved wielding chainsaws. In an amusement park. During Oktoberfest. And, there's a Nazi on the crapper about to meet his end. Yeah. The developer-led demo I watched showed how the co-op would play out in "Furious 4" as the player-controlled character and three AI buddies brawled through a level and into a boss fight. A giant German menaced the squad, with one team member drawing his attention. The dev playing then blasted the boss character to turn him around and draw his attention, followed by another character throwing out a bear trap. When he gets shot at from behind again, the boss character bulls into a bear trap which immobilizes him and sets him up to be shot at aplenty.
So, yes: "Furious 4" isn't going to be a solemn WWII FPS. It remains to be seen as to whether the grindhouse approach will pay dividends in "Furious 4" as it did for Quentin Tarantino with "Inglorious Basterds." If Gearbox gets the balance of gritty and guffaw just right, it might carve out a niche for itself in a crowded shooter market.