Broke-Ass Stuart's top 5 moments that you won't see in the series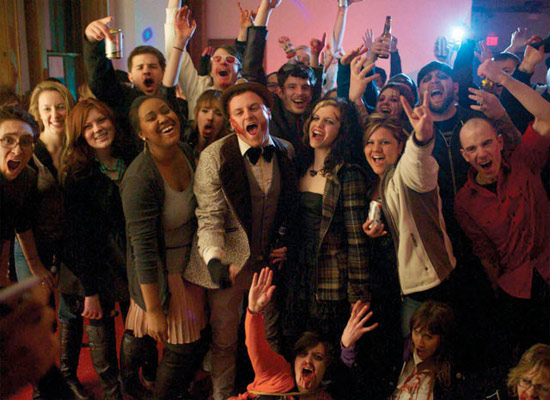 Posted by IFC on
Making Young, Broke & Beautiful was such a fantastic experience. Not only did I get to visit six great American cities, I also got to meet interesting and odd people wherever I went. And those are the kinds of folks I tend to gravitate towards anyways, no matter if I have a camera crew following me or not. While each episode of YBB is packed to the brim with wonderful scenes, we were limited to making a half-hour program. Unfortunately this means some truly incredible moments were left out. What follows is five of my favorite moments that didn't make the final cut:
1. Irma Thomas and George Porter Jr.:
Getting to hang out with two people whose music I dig so much was amazing. I was even a little nervous at first, which is weird because I never get nervous. We ended up talking for nearly and hour, but only a couple minutes made it into the episode. The part of the conversation that that stuck with me most though was when we were talking about Hurricane Katrina. George told me that the night after the hurricane, while half the city was underwater, the band scheduled to play the Maple Leaf Bar came in, set up a generator and played their show anyways. George and Irma explained that that was pretty much the heart of what it means to be from New Orleans; that no matter what happens, you gotta give people the music because it will help heal their souls.
2. Larry D'Mongo:
Larry is one of the most interesting people I've ever met. He's a black dude from the streets of Detroit who used to run drugs on a serious level. Now though, he's an honest businessman who runs a bad ass bar and completely believes in the rebirth of Detroit. He's both street smart and has an incredibly intelligent. At one point, once the cameras were (unfortunately) done rolling, me, Larry and a few others were having a drink at the bar. Somebody brought up China and Larry said, "China? Man I spent two years in jail in China in the 70's".
So I responded, "Larry, what the hell did you do to end up in jail in China?"
Larry: "Man, it was a case of mistaken identity"
Me: "Mistaken identity? Come on Larry, how many brothers were walking around China in the 70's?"
Larry: "At least two!"
That's currently one of my favorite stories to tell. It's brilliant and hilarious.
3. Al Kapone:
Al Kapone is a rapper from South Memphis who's worked with the Three Six Mafia and whose music was prominently featured on the "Hustle and Flow" soundtrack. There's a scene in the Memphis episode where Al and I are riding around in the back of a '55 Caddy and getting a tour of Memphis by Tad Piercen. What didn't make the cut though was that right when Al got in the car, he sat down, said, "Hold on. I gotta get more comfortable," and then pulled his gun out from his waist band and set it on the floor of the car. I was like, "Well, I guess that's happening".
The weirdest part for me though, was not that Al was strapped, I used to run with some real crazy motherfuckers back in the day. The weirdest part was that you can legally carry a concealed weapon in Tennessee, as long as you have a permit, which Al did. This is evidenced by the fact that every bar I went to had a sign outside that said, "No Firearms Allowed Inside." Blew my mind!
4. T-Model Ford:
In the Memphis episode we take a little road trip to Clarksdale, Mississippi, the place the blues was born. While there I get to hang out with T-Model Ford, a 90+ year-old blues legend. T-Model was playing at Red's, a real deal juke joint where the music was great, the bar was divey, and the patrons were strange. Especially Tyrone.
Tyrone was weird and wild-eyed, he'd obviously been drinking all day, and while he was really excited about getting on camera, he kept saying, "I better not see myself on TMZ!" He was a big cat too, probably 6'3, and was the kind of drunk where we weren't sure if he was gonna turn violent or keep high-fiving and hugging us. He ended up staying in high-five mode, but he was drunk enough that as we were leaving, I heard him call T-Model, T-Mobile.
5. The Arabers:
Arabers are horse-drawn carts that sell mostly produce throughout some of the poorer neighborhoods in Baltimore. Or maybe the Araber is actually the person selling the goods. I'm not sure exactly, but it doesn't really matter; they are an amazing part of the history of Baltimore and, as far as I know the horse drawn merchants left in the USA (that aren't a shtick of course). I got to hang out with a particularly old Araber named Fat Back and his family, most of whom are also Arabers. He also demonstrated the famous call the Arabers are known for hollering from their carts. Unfortunately we had some technical problems or something like that and the footage never made it in the cut. Too bad. I really liked Fat Back.
Catch the premiere of Young, Broke & Beautiful tonight at 11/10c and watch every Friday.