Brian Cox Arms Up For Directorial Debut "Lady," Raises Sword For "Ironclad"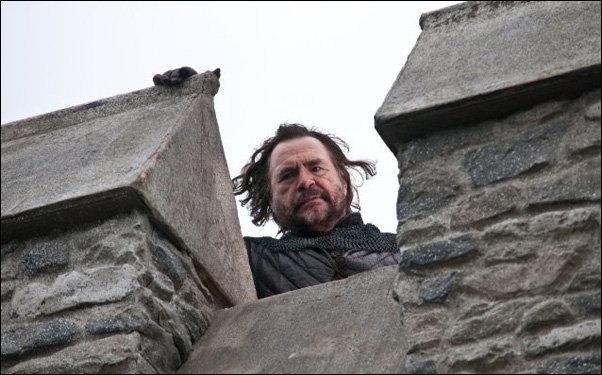 Posted by Stephen Saito on
In order to understand what Brian Cox went through on "Ironclad," one must spoil a climactic plot point in the film, so if you'd prefer to remain unsullied, please dive right into the Q & A. But if not, you should place yourself in Wales in November, where as director Jonathan English recalls, "It was freezing cold, raining, windy as hell and Brian spent most of that day on his knees in the mud with a very thin cotton shirt on" as Paul Giamatti's King John berated him for helping lead a revolt against the throne before punishing him. (You can see an exclusive clip from the film here.)
"I was worried in the cold and the wet and having his hands chopped off and him catapulted against castle walls, what's it going to be like?" English casually remembers now. "And Brian was amazing. He never complained once." Although the bits about the behanding and the catapult are merely part of the movie magic involved in the gory medieval tale of a group of soldiers who rise up against the king after he's defied his own signing of the Magna Carta, it's a refreshing to know that the image of the unshakable Cox that has been cemented into the minds of moviegoers through his roles as diverse as the original Hannibal Lecter in "Manhunter" to the surly headmaster in "Rushmore" and yet again this summer in "Rise of the Planet of the Apes," is the one he radiates offscreen as well.
Soon, Cox will actually require that temperament behind the camera as he embarks on his first feature as a director, "Our Lady of Jackson Heights," which he discussed along with finally working with his one-time student Giamatti on "Ironclad," his desire to do more onscreen fighting, and the need for more independent British productions in an all-too-brief chat recently.
Do these kind of roles where you're swinging a sword around hold a special appeal for you?
They're part of my heritage, really. I used to do a lot of fencing in the theater and a lot of horse riding in the early days, so I'm used to it in a way. Ifyou're classically trained like I am, it's a little bit like mother's milk to me. I enjoy it. And I don't get the opportunity to do it all that often, so that was one of the fun things about doing it. I wanted to do a lot more fighting than they let me do because of insurance reasons because I'm not a kid anymore. But I had a great time doing it, particularly the riding. Anything to get on a horse.
What's the challenge for you on a movie like this?
With a relatively independent movie like this, the challenge is to see if we can get it done, given the time that we've got to make it in. I think Jonathan did a great job. He's a great delegator. He had a wonderful director of photography and a wonderful camera operator and a great cast. And a great fight director.
You've said it was a point of pride for you that this was produced in England.
Also, the fact it was done in Wales. We don't make the movies that we should make. We've never really had an industry back home. And it saddens me in one way because I think the potential that is there is enormous and we've missed out on it a little bit to our detriment. I want to see us do more of that kind of movie. But we do need the tax breaks. We do need the studios. We do need the support of the government. We see a lot of what's happening in Europe like films being made in Prague, Bulgaria, Serbia, films being made everywhere.
In the early days when I started, we had a lot of great people around and we could do amazing stuff with very little budgets and I'd like to see that happen again. That was what was so good about working in Wales – the problem is always the weather, but especially [for] a film like this, it was actually the best kind of weather to be working in because in fact, it's very real. These guys did fight these battles and wear these kinds of costumes and they were soaking wet. Not only were you wielding your sword and dealing with somebody who was wearing 150 pounds of armor, the terrain was pretty primitive. So in a sense when you get those elements together, it's quite exciting.
It also must've been exciting to work with Paul Giamatti, who you once taught in a Shakespeare class many years earlier.
I did. Well, Paul is astonishing. He really is astonishing. The big speech that he has, he did it in one take. He didn't even have any rehearsal, he just came in and hit the ground running.
Did you remember him as a good student?
Oh yeah. He was always very quiet. He's very self-effacing. His focus is the work and always has been.
Is it true you're thinking of making your directorial debut soon with "Our Lady of Jackson Heights"?
Yes. Well, I'd been trying to direct for a long time and this is written by an old friend of mine, Mickey Abbate. It's a slight reworking of "Oliver Twist," except it's set in New York and it's about these kids dealing this drug called "Numb" — instead of pickpockets, they're runners of this drug and it's about the kind of subculture.
Does it feel like the right time to get behind the camera?
I've tried to make a film for many years and it didn't happen. I've always wanted to make a film. Charles Laughton, who's a great hero of mine only ever made one film and it happens to be one of the great films ever, which is "The Night of the Hunter." It's full of his kind of imagination and creation and how you do things and just in the way he used the studio, I just thought it was a fantastical way of using the studio.
I've directed a couple of times in the theater, but I wouldn't make a habit of it because it's too consuming. I admire these young directors who kind of work for 10, 12 years on a movie. I worked with Rupert Wyatt and it took ages for him to get a movie made [with "The Escapist"] and then we finally got his movie made. I worked on that for three years [both as an actor and producer]. Again, ["Our Lady of Jackson Heights"] is a dark subject. It has Dickensian tones to it, but I think it's a really, really interesting film, so hopefully we're going to try to get it made this winter.
"Ironclad" is now available on VOD and will open in theaters on July 8th.
Will you want to see Brian Cox make his directorial debut? Let us know in the comments below or on Twitter or Facebook.