Holy Crap, The "Bellflower" Trailer Is Amazing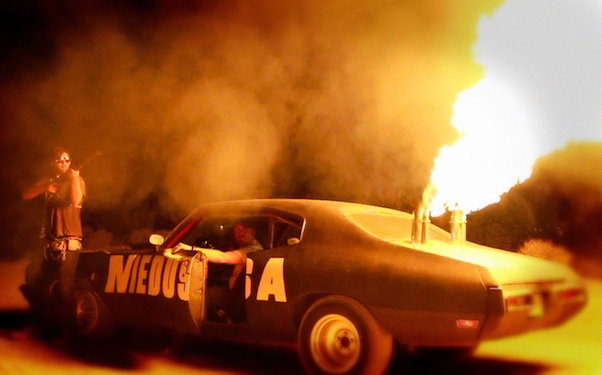 Posted by Matt Singer on
This makes me so happy. "Bellflower" is one of the best independent films I've seen so far in 2011, but it's not an easy film to sell in a sentence or two. This, of course, is a big part of its appeal. It's something wholly new: a romance, a comedy, a horror film, a gearhead movie all wrapped up into one gorgeous package. It's easily one of the most exciting debut films in recent years and it announces writer/director/producer/editor/star Evan Glodell as a major new filmmaker.
But again: just because it's great, doesn't mean it's an easy sell. Which is why I'm so jazzed by "Bellflower"'s trailer: it makes the movie look so freaking cool. Which it is! But the marketing wizards at Oscilloscope or whoever they hired to cut this thing managed to sum up the movie perfectly in the most stylish way possible. The music choices, the use of varying film speeds, the lines, the editing; this really is one of the best, if not the best trailer of 2011 so far. Take a look for yourself.
"Bellflower" opens in New York and Los Angeles on August 5, and expands from there; for a full list of playdates go to Oscilloscope.net. In the meantime, be sure to whet your appetite for the movie with my review, which you can read here. I can't wait to see it again.
Do you dig the "Bellflower" trailer as much as we do? Tell us your thoughts in the comments below or on Facebook and Twitter!