"Attack the Block" Plots Out A Pre-Release U.S. Invasion On June 15th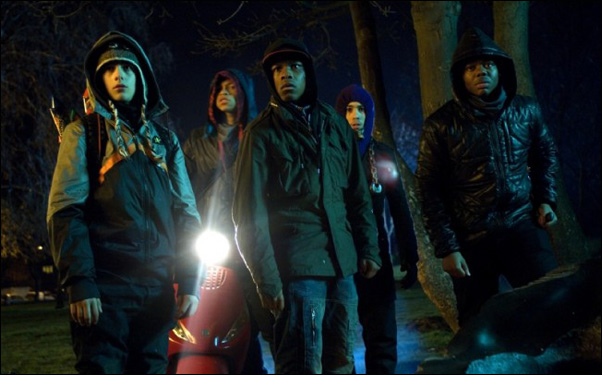 Posted by Stephen Saito on
It was only last fall when I wrote about "the wonderful afterlife" of Edgar Wright's "Scott Pilgrim Vs. the World," which wasted no time in mobilizing its rabid fan base after a disappointing theatrical release with a series of midnight screenings featuring special guests to quickly cement its legacy not as a box office misfire, but as the cult classic it likely was always intended to be. However, it seems that experience has very much informed the rollout of "Attack the Block," the directorial debut of Wright's frequent writing partner Joe Cornish ("The Adventures of Tintin"), since if you haven't heard from this site or others is an equally special film that has been building word-of-mouth ever since it made its triumphant debut at SXSW in March.
Now, the film has a release date of July 29th, which nearly guarantees it to be the summer's most original action film — in his review of the film, Matt Singer called it "a film that combines visceral excitement with cerebral smarts — that's the film geek holy grail" as it centers on a group of young British street toughs forced to take up arms against an invasion of aliens. But many audiences have already had the chance to see it or will have before it's released into multiplexes across the country.
While tickets were just made available for its most public screening after its SXSW play, a gala screening at the Los Angeles Film Festival on June 22nd, "Attack the Block" has been in heavy rotation in Hollywood for months, winning over plenty of celebrity admirers and picking up plenty of self-appointed "Blockheads" on Twitter who have taken to using one of the film's catchphrases "Trust" as a hashtag. The response not only influenced Screen Gems to pick up the film, but led to one mass free screening of the film in 25 cities on May 25th that has since begat another this Tuesday, June 15th in 14 North American cities (some of which are not sold out yet, as you can see here).
Add to this the open advocacy of Aint It Cool News' Harry Knowles and Badass Digest's Devin Faraci on Twitter (with the hashtag #attackthealamo) to get an early screening at Austin's Alamo Drafthouse, which they did — it will be part of the June 15th screenings, leading to similar campaigns in Boston and New York to show at the Brattle and Sunshine, respectively, and it appears that "Attack the Block" will have many more fans before the film's trailer even shows up in U.S. theaters.
However, the question remains whether or not the film will have exhausted its target audience without ever collecting from them at the box office, a fear that no doubt lingers with the film's distributor as much as the early one that the characters' heavy British accents might need subtitles to appease American audiences. Both may prove to be unfounded, but there's something slightly funny about the fact that many of these early screenings have been called "fan appreciation screenings" when the audience has yet to see the film to know whether they're fans or not. Still, it's the kind of reverse engineering that may be required to make "Attack the Block" a hit and if it does, it'll be thanks to a pre-release marketing campaign strategy that's all too rare these days — actually showing the film instead of endlessly teasing it.
Will you want to see "Attack the Block" in theaters when it's released on July 29th? Let us know in the comments below or on Twitter or Facebook.