David Carr And Andrew Rossi Make Headlines With "Page One: Inside The New York Times"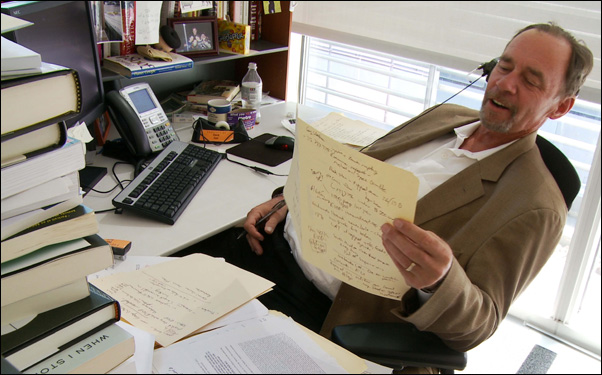 Posted by Stephen Saito on
In the two weeks since I conducted this interview, The New York Times' executive editor Bill Keller announced that he would be stepping down from his position to become a full-time writer once more, paving the way for managing editor Jill Abramson to make history as the first woman to lead the venerable news organization in their 160-year history. In some ways, the fact that the news came after the Times' media columnist David Carr and director Andrew Rossi did press for the documentary "Page One: Inside The New York Times," but before the film was released in theaters, felt like a cruel cosmic joke, the ultimate indictment of holding onto any bit of information in an era where speed is everything.
But as much as Rossi himself would've surely liked to have included a scene to capture that milestone in his film (he was able to attach it in a newly added postscript), "Page One" is a celebration of taking the time to get the facts right and comprehensive investigative reporting, even as the transition to the digital age means an even faster race against the clock for once-dominant news gatherers such as the Times. Centering on the paper's media desk as they cover events with direct implications on their own future including the rise of WikiLeaks and Twitter, the bankruptcy of the Tribune Company, and the merger of megaconglomerate NBC-Comcast, the film traces the evolution of each story from the initial cold calls being made to its publication.
Grace under pressure might not be what immediately comes to mind when watching Carr and Brian Stelter pound at their keyboards as if they were playing Rachmaninoff concerto, but it's only the emerging music that Rossi captures, proving in the process that the parchment isn't the only tangible thing left from the glory days of newspapers, but also the evergreen importance of shoe leather journalism. Though I spoke to Carr and Rossi separately, we touched on many of the same points, so I've decided to join their answers for this talk about how "Page One" got unprecedented access to the Times' headquarters, the strangeness of being reported on as a reporter, and why quality journalism won't be going away any time soon.
Andrew, during your early conversations with Times' management, did your approach to the film change, not necessarily based on the access you would be allowed, but as you got a feel for the place?
Andrew Rossi: They didn't have any influence on the way that I was thinking about telling the story or what I was going to focus on. It was mainly about explaining that what I do is observational documentary filming. I'm not going in with a satirical kind of approach like "The Daily Show." I'm not going in with an agenda. It's not a gotcha documentary. It's really supposed to be something in the vérité tradition. That's what Bill Keller, the executive editor, told me was I'm proud of my journalists, I'd like the world to see it.
David, did you feel it was the right time to raise the curtain?
David Carr: I've always believed in transparency. I've been transparent about my own past. I believe that the institution is a miraculous thing and that the more people see of it, the more they will like it. The more I find out about it, the more I like it. [But] Andrew ended up precisely at the wrong time in that he came right after "The Daily Show" and I was one of the people who said, "Let 'The Daily Show' in. What could go wrong?" They made us look like total buffoons. But [Andrew]'s able to fight his way through that and it's at a time when the Times, through the use of Twitter, blogging, Bill [Keller]'s column, you can see into the guts of the place.
The original idea for the film was to concentrate on David, but at what point did you decide it might be better to concentrate on the whole media desk?
AR: When I would shoot and go in and see [the Times' Media and Marketing editor] Bruce Headlam, I would say, "What are the stories you're working on today?" [And he would respond] "Oh, Brian [Stelter]'s working on this, Richard Pérez-Peña's working on this, Tim [Arango]'s doing this, David's doing this, and suddenly, I was like, this is awesome because now I have access to all these different types of stories, which give us perspective on all these different aspects of the media landscape and each one of these different people writing those stories has a backstory that's fascinating and they contribute to this cinematic experience, so pretty quickly I realized it was sort of a stroke of genius. Not my own genius, but… [laughs]
DC: I didn't think it would be successful just in the broader sense. I thought the idea of making a movie about a newspaper or newspaper men was not really a great idea. It sounded boring. And as you saw, [Andrew] really got a movie out of it, so I was surprised by that. Do I like everything in the movie? No, I don't. Do I think he told a true story? Yeah, I think he did. Andrew's a storyteller in the same way I am, but he's also a journalist and I knew we had values in common. I knew he wouldn't screw us, but I didn't know how he could possibly make us interesting. And he did.
Andrew, you were actually an editor and producer on "Control Room," which also dealt with a newsroom. Did that shape how and what you wanted to cover with this film?
AR: Definitely the experience of having been an additional editor and an associate producer on "Control Room" was very influential because of a couple of reasons. One is Jehane Noujaim, who made that movie, worked with D.A. Pennebaker and I got to see the raw footage and as a fellow documentary filmmaker, it's always fascinating to see another director's work. She's also somebody who shoots her own footage and it was taking place at a really pivotal moment in the world from the perspective of a newsroom, Al Jazeera. One of my biggest takeaways from it was just sitting down with or following really smart, interesting people at a moment of really high stakes in a newsroom can sometimes be almost close to enough [for the viewer to have a cinematic experience]. There doesn't need to be explosions and car chases or the equivalent in a documentary.
The other thing that was interesting about "Control Room" was that it came out at a moment when people really didn't know what to think about the war in Iraq. Everyone thought Al Jazeera was located in the basement of Saddam Hussein's palace or something like that – it was just so revelatory. I worked with Jehane for like a two-week period really intensely to come up with the cut that was at Sundance and there was something about the timeliness of making sure it got into the bloodstream of the culture and became part of the conversation that also informed the creation of "Page One" because you're doing a movie about the New York Times, you really want to get it right. We started shooting in November of 2009 and then we found out that we were in Sundance in November of 2010. That's a year. We were shooting and editing simultaneously. There was this sense of urgency to the production, which was another takeaway from having worked on "Control Room."
David, when you're a part of something like this film or your book "Night of the Gun," do you find it to be a different experience when there seems to be a greater intention of permanence than when you're done with one of your weekly columns in the paper?
DC: That's an interesting thought. When I did a book, people said to me, everything we do – this interview that we're doing, my last Monday column about Nancy Grace, page one — it goes wooshing by. Woosh, woosh. And the Internet keeps track of everything, it remembers nothing. People told me doing a book, regardless of how a book does, you'll take comfort in the fact that it's sitting somewhere on your shelf and that is so true. The other thing is I'm working on a story that involved [speaking] to former Vice President Al Gore yesterday. We were talking about Participant Media, which did "An Inconvenient Truth" and it's doing ["Page One"] too. I said, "I've got to tell you, I feel weird doing all this press. The microphone's pointed the wrong way and I'd rather ask questions than answer them." And he said, "Well, how many times in your life is somebody going to make a movie about what you do? I think you should pay attention to it and pay proper heed to it." That makes sense to me. Although I don't know exactly what I'm doing here.
It must seem like a strange experience to be at a junket where everything is packaged and yet we're talking about a film that celebrates the rare organization that actually goes out and digs up a story still.
DC: It looks exciting. At certain points in the film, I look like a Marvel comic or an action figure and you and I know that reporting isn't like that. But it doesn't lose its truth by its compression. I'm in the movie as a former crackhead and media columnist. I've done a couple other things — I've raised children, run papers, mentored young people, done a bunch of other things, so is it me? No, it's not me exactly. Is it the truth of me? Yeah, it is.
Andrew, carrying a film around with the Times in the title, have you felt the weight of being associated with such a legendary institution?
AR: My answer would be no, I haven't really, but there's been such a whirlwind of stuff to do that I haven't really had a lot of meditative moments. Also, I feel like we've had a real emphasis on the idea that the movie is about journalism in general and it could've been done at the Wall Street Journal or the Washington Post or AP or Reuters and so the New York Times is like this big avatar for quality journalism institutions.
David, has your experience of being on the road with this movie changed the meaning for you of what you do? I know it all started with a standing ovation at Sundance.
DC: I like walked out [of that screening] and you know, I didn't make this movie, so what are they applauding, really? They're applauding what I do. They're not really applauding me. That was not a performance. I didn't make the movie. They believe in what I do. I think you've got to show a proper regard for that. It's cool. We're going to show it to university kids tonight – they freaking love this movie. And it's about a newspaper! I've written a lot of stories about newspapers and my own kids won't even pay attention to them, so I feel like there's a lesson in storytelling there that may be in a way that people care more about newspapers than they know. Maybe that's what "Page One" does.
"Page One: Inside The New York Times" opens in New York on June 17th before expanding into limited release on July 1st.
Will you want to see "Page One: Inside The New York Times"? Let us know in the comments below or on Twitter or Facebook.