"Aliens: Colonial Marines" Bursts onto Consoles Next Spring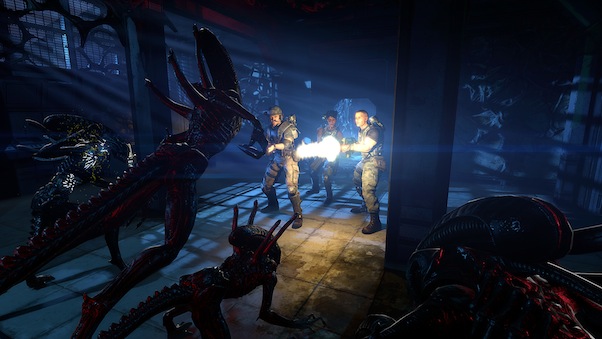 Posted by Evan Narcisse on
"Aliens: Colonial Marines" Bursts onto Consoles Next Spring
Entire video game franchises have tried to capture the mix of horror, action, dark comedy and commentary that James Cameron's "Aliens" delivered when it hit big screens 25 years ago. You can see strains of the component parts of "Aliens" in the classic "Doom" shooters, Bungie's "Halo" games and EA's "Dead Space" sci-fi horror franchise. There've been games with the iconic xenomorphs in them, most recently the mildly received "Aliens vs. Predator" published by Sega last year.
Undaunted, Sega's putting out another "Alien" game in the spring of 2012, this time with dev studio Gearbox Software. The relevant bits from today's press release:
"To Gearbox Software and its peers throughout the industry, ALIENS is
one of the most influential science fiction properties of all time,"
said Randy Pitchford, President of Gearbox Software. "Aliens:
Colonial Marines, designed as an interactive successor to the landmark
films from Twentieth Century Fox, is a dream project about which our
studio is deeply committed and passionate."

"Aliens: Colonial Marines will be THE definitive ALIENS gaming
experience," said Gary Knight, Senior Vice President of Marketing at
SEGA Europe and SEGA of America. "Gearbox Software are doing a
brilliant job translating the thrill and horror that ALIENS stands for
into an action-packed shooter experience with co-operative gameplay at
its core."

Gary Rosenfeld, Senior Vice President of New Media for Fox Consumer
Products added, "It's no easy task to take on one of the most
influential films of all-time, but SEGA and Gearbox are not going to
disappoint. This game will be a must-have for fans of the ALIENS
franchise and gamers around the globe."

Aliens: Colonial Marines begins with an ostensibly abandoned ship, the
U.S.S. Sulaco, recovered in orbit around LV-426. Players lead a group
of highly trained United States Colonial Marines as they board the
deserted craft to uncover the fate of the crew. They will have to
fight to survive unspeakable horrors and their own anxieties as they
chase down the truth behind a galaxy-spanning deception that places
humanity at the mercy of the most murderous and deadly species in the
universe. Aliens: Colonial Marines features authentic environments,
such as the surface of LV-426 and Hadley's Hope, weapons inspired by
the film series and is designed to provide an exhilarating and
engaging new chapter in the Aliens universe.
The question with this game isn't whether Gearbox can deliver the goods as far as gameplay is concerned. Their pedigree includes the "Brothers in Arms" WWII FPS series, the addictive megahit "Borderlands" and the soon-to-release, legend-in-waiting "Duke Nukem Forever." They know shooters and how to build different experiences inside shooters.
So, the question with "Colonial Marines" is really they'll be able to capture the electric tingle of fear associated with any of the classic "Alien" installments. But, a video game's git to make you feel empowered, too, so "A:CM" will need to ramp up your skills believeably to make it seem like you're capable of defeating killings machines that have decimated whole squads of tough guys.
This project's actually been brewing for a while and I saw it in an earlier stage a few years back at E3. Even then, the build of the game on display had progress. The snap of sudden darkness turned the human soldiers' machismo and bravado into nervous chatter. Watching the slinky animations of the lethal xenomorphs creeped me out a few years back and the glimpse offered of one gets me all goose-bumped now. "Aliens: Colonial Marines" takes places directly after the second "Aliens" movie and the dialogue in this teaser seems to hint at strong ties to the events of that film. If nothing else, the game presents an opportunity to quote the film's great dialogue liberally. There's always Bill Paxton as Private Hudson, delivering the immortal "That's it man, game over man, game over! What the fuck are we gonna do now? What are we gonna do?"
"Aliens: Colonial Marines" is scheduled to come out for consoles and PCs next spring. If you're excited to get your chance to face off against face-huggers and xeno queens, let us know in the comments below or on Facebook or Twitter.