Exclusive video premiere: The acoustic majesty of Alexander Turnquist's "Hallway of Mirrors"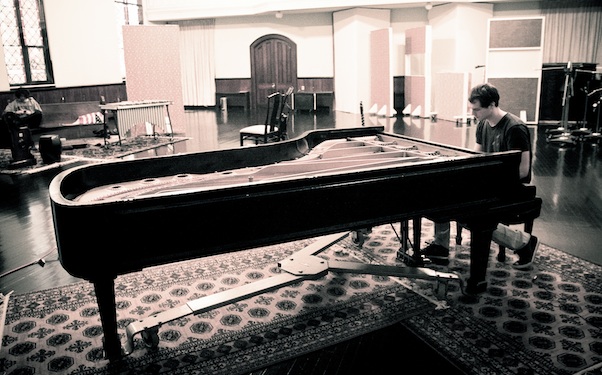 Posted by Grayson Currin on
video player loading
.
.
.
Watching the video for "Hallway of Mirrors," the title track from the new album by New York State guitarist Alexander Turnquist, you might get the sense that you're watching the preamble to a love story. A woman walks into a park and begins hula hooping, her lithe, black-clad figure offering a provocative contrast to the sunny German day. Turnquist, meanwhile, sits in a grove, the studied coil of his body behind his 12-string acoustic guitar offering a provocative contrast to the open woods around him. You get the sense that these two will save one another from introversion, that they'll pull each other from their own isolated worlds. And maybe they will. We'd hate to spoil it.
We spoke with Turnquist, whose excellent and concentrated Hallway of Mirrors is out now, during his lunch break at a bookshop in Hudson, N.Y.
Something that's certainly different on this album, Hallway of Mirrors, is your focus on a set of sounds and a sense of momentum and movement. Previously, you've tinkered around a bit on albums. Was that a priority for you, in terms of minimizing distractions?
Definitely. The difference from the first two records is that I spent a lot more time with the writing and performing on this album before recording, getting it set with the other players that have been playing with me live, like the vibraphone player Matthew O'Koren. Oftentimes, I have my friend Liam Singer play piano and Christopher Tignor play violin. They were all with me when I was writing the songs. When they were ready to be played live, I could play them in full instead of as a solo guitar album.
Someone known for solo guitar adding a full-band approach is an interesting development. Why is it important to you to add these other musicians, when the music is so dependent on the guitar as a centerpiece?
In making the kind of music that I've been trying to get at, when there's so much repetition and speed sometimes, without accenting it with other instruments, you don't really hear the melody as much–at least to me, the important parts. I've been trying to add an element of surprise for the listener, if they hear something that comes up that's a bit new and not just my guitar. I wanted to use the vibraphone in that way because it carries above most other instruments, especially in the lower octave. It adds an elemental flow to it. After those parts come in, it makes it easier for me to see where other counterpoints and interesting sounds can be added in that I wouldn't have otherwise heard.
The track lengths are of note here. There is a 16-minute piece, "Waiting at the Departure Gate," and some mid-length pieces just before it. But you begin and end with tracks that don't break the three-minute mark. Why?
The first and the last songs are just harmonics on the guitar, and that's been a real interest of mine lately. The next project that I'm doing, which I just started working on, is going to be entirely all harmonics, in a way–not just on guitar but also with other instruments. I wanted to use that as a bookending to the album because it's sort of an intro and conclusion that are similar. They're in different keys. I did want an overall start and finish, so it was very structured in that sense.
I wanted to keep that same theme with it and with the shorter pieces leading up to the lengthy "Waiting at the Departure Gate." That was the first piece that I wrote for the record, "Waiting at the Departure Gate." It had various evolutions by the time it finished and became what it is now. But the other two came along when I was in my down time, sitting at the vibes playing around with them, using a bow on them to get the sort of resonance. They started to take shape around that.
The meaning of the record has a little more to do with self-reflection of the listener–or of myself, really. That has to do with the whole mirrors concept.
You mention self-reflection. This record does have a ruminative quality, where you can get inside and just think. As the player, does it allow you to engage in the same way?
The record that came before this was a little more dreamy, so that you can drift away and not have to focus quite as much. But with Hallway of Mirrors, there's definitely more energy. "Spherical Aberrations," for me, is a running song. I like to distance-run as a hobby, so I wanted to write a song I imagined a runner listening to when they're coming to the closing stages of a marathon and they really just want to fall over and not have the ability to finish. But the rest of that helps the runner carry themselves through.
Have you run any marathons?
I haven't run any full marathons yet. I'm planning on doing one within the next year. That's the goal. I've run half-marathons so far. I was running all throughout high school. I don't like going to gyms and being inside. There's a mental aspect of it for me. When I need to think and reflect and leave my general, day-to-day life, I run. I get a lot of musical ideas from doing that. When I'm working on pieces, I'll record demos, put it on my iPod and just listen to it when I'm running.
How does the idea of "Hallway of Mirrors" and self-reflection relate to the video, or is it meant only as an accompaniment?
With the video, as a choice, I was not directly involved in the concept. I had done some stuff with [directors] Derek Van Gorder and Otto Stockmeier in the past. They used some of my music for a little short film that they did. I really like the narrative quality they get out of their videos and out of their films, though they don't have any dialogue or speaking in them. It leaves it open to the viewer's interpretation of the story. That's, in a way, how my music is: There are no lyrics, and I want to leave it open for the listener's interpretation of what it means to them. I do spend a lot of time thinking about the song titles and specifically trying to capture what it means to me in the song titles, but I don't want that to be the literal definition for the person that is listening to it.
When they said they wanted to make the video for this, they said they wanted to be fully responsible for the writing. They came up with the idea all on their own. The woman who is hula hooping was shot in Berlin, where Otto is living. They gave me a rough idea of what they wanted to do, and I thought it was interesting. I wasn't sure about being in it and actually playing guitar, but they were adamant about that. I was open to their vision.
I suppose hula hooping does make sense, as it's a repetitive outlet that really allows you to think about one thing over and over again. Is it important for people to have those in their daily lives?
I definitely think so. It is for me. To have some sort of anchor, whether it be a hobby or whether it be a spiritual thing, everyone needs an outlet to lose themselves in.