"A Dangerous Method" trailer promises hot Freudian action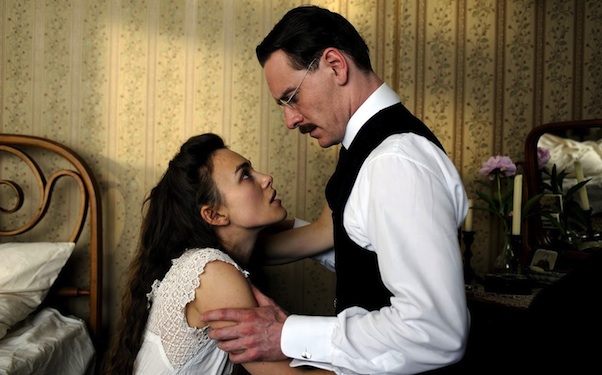 Posted by Matt Singer on
It feels like we've been waiting for David Cronenberg's new movie for an eternity. It's been four years since his last film, "Eastern Promises," and at least a year or two reading about "A Dangerous Method," his film about the relationship and rivalry between Sigmund Freud (Viggo Mortensen) and Carl Jung (Michael Fassbender). The film premieres at the end of August at the Venice Film Festival; today, we finally got a look at the trailer.
Carl Jung, you old horndog!
Though I would gladly pay ten dollars to see Cronenberg adapt a Chinese takeout menu, I didn't really get his interest in Freud, Jung and the origins of psychoanalysis when I first read about the project. When I think of Cronenberg, I think of worlds and subjects that are ultra-modern, if not outright futuristic. And then I watched the trailer, and I heard lines like "Why should we put so much effort into repressing our most basic natural instincts?" and I realized: duh, sex. He's making a movie about sex. Sex plays a hugely important role in so many of his movies, from "Videodrome," to "Dead Ringers," to "A History of Violence." "A Dangerous Method" clearly fits in perfectly; it's just got more old timey clothes and stuff.
Sony Pictures Classics just acquired the film last week. They've yet to set a release date.
What's your favorite David Cronenberg movie? Tell us in the comments below or on Twitter and Facebook!