A Brief Interview With Young, Broke and Beautiful's Stuart Schuffman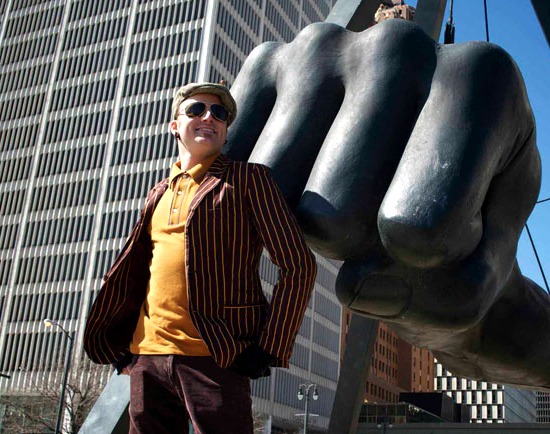 Posted by Melissa Locker on
"Young, Broke and Beautiful" premieres on IFC on Friday, June 24th at 11 p.m. ET. The series chronicles Broke-Ass Stuart's (a.k.a. Stuart Schuffman's) travel adventures within the U.S. But this is no ordinary travel show, and Broke-Ass Stuart is no ordinary host. Rather, Stuart believes that being broke-ass is a state of mind and the best part of most cities aren't in any guidebooks. We sat down with the travel writer and blogger known for his popular guidebook "Broke-Ass Stuart's Guide to Living Cheaply in San Francisco" to chat about the new show.
Good morning, Stuart, where in the world are you today?
I'm in my hometown of San Francisco. I work at home so I am wearing my usual work uniform: Pajamas and a t-shirt.
How did you go from living in SF to being young, broke and beautiful?
I was making Zines — you remember zines. right? I was making zines about broke-ass Stuart living cheaply in SF. They got to be pretty popular and people really started reading them. The success let me start writing for the Lonely Planet guidebooks. And then I got a book deal on Craig's List.
You got a book deal on Craig's List?!
Yeah, I always joke that I wanted a blow job and got a book deal instead. But there was an ad and they asked for submissions, so I sent in my stuff. I ended up doing two books with them. One was on San Francisco [Broke-Ass Stuart's Guide to Living Cheaply in San Francisco] and one was on New York [Broke-Ass Stuart's Guide to Living Cheaply in New York]. They were general survival guides to being broke asses. Now I'm on IFC.
How did you translate your books into a show?
It's a totally different medium. The show is definitely not my book, we didn't take a novel and turn it into a movie, but the ethos is the same. We wanted to show that you don't need money to be alive or wonderful or to seek things out. We wanted to explore our favorite cities and find awesome things to do there.
What are some of your favorite cities?
That's hard because I've traveled quite a bit. Whenever I get money I think oh I have to buy a ticket and go somewhere. There's something cool almost anywhere you go. I wrote the Lonely Planet guide to Ireland and Galway was amazing. It was wide open with an energy that was different from the rest of the country. I also love Buenos Aires and I really think that Bilbao, Spain is great. I fell in love with Bilbao. It is one of those cities that right now is the time to go visit. It's going to be one of those cities that you wish you had visited way back when. Domestically: I love New Orleans. It reminds me of San Francisco in that you can be as freaky deaky as you want to be. Everything's awesome.
Do you go into towns with an idea in your head about where to go or what to see or do you just let the chance drive you?
It's television, so there is a lot of planning involved. There were months of pre-production research about cool places to see. It's not how I've ever functioned before, but
How did you choose your cities?
Short list of cities whittled it down from there. Wanted to go to Portland but …
Wait, how have you not been to Portland, it's so close to SF?
Well, I don't have a car, so I can't drive. But it's crazy, I've been to 40 something states, but I've never been to Oregon. I really want to go up there. Maybe I will.
But so we had a short list of cities and eventually chose Baltimore, Boston, Memphis, San Diego, New Orleans, and Detroit.
What did you find to do in Detroit?
The economy is depressed there, so it creates a space for artists. You can pay the rent there. Being an artist in NYC or San Francisco is crazy you have to have two jobs to pay the rent. But in Detroit the economy is bad so you can just be an artist. There are cool people doing amazing shit. Like this group of artists were living in this crazy building with vaults and shit and these artists occupied the first few floors and they eventually bought the whole building for $350,000, which coming from SF or NYC is nothing! People in Detroit get to be really creative and do amazing shit that they just couldn't do in other cities because they'd be too busy being waiters or something.
Did you have a set budget in mind when you went to the cities?
No, no, that premise is s too limiting. It's been done. We're not really hammering you over the head with broke broke broke but amazing things that don't need a lot of money. We don't count down the receipt at the end of the show. Being broke ass is really a state of mind. It doesn't matter how much money you have. You don't need money to have a good time. It's not about the things that you own, it's about the things that you do and there are cool things everywhere.
What was your favorite city to visit for the show?
New Orleans. I mean, I don't want to play favorites at all. Each city had something you wouldn't experience anywhere else in the world. But I really loved New Orleans. There's so much culture meshed together there to make something more. It was also the first city we went to so maybe that has something to do with it, but it's totally not an American city, but at the same time it fully encapsulates the American experience
What city do you wish you could have spent more time in?
New Orleans. I have to go back to that city. There's such a sense of revelry about it. It's like a first love, where there are a lot of fucked up things about it, but you love it. There have been disasters and shitty things but people have this attitude that while things may be just terrible today, but tomorrow we will dance in the streets. However, we love all the cities equally. No favorites.
What can viewers expect from this show?
It's going to fucking awesome! People in these cities can watch and say, "Oh hey I had no idea that was here!" These are love letters to the cities. There is something in Baltimore that is worth doing. Something you won't find anywhere else in the world. There are a lot of great people doing cool things like warehouse parties, loft parties, and musicians in every city. The Visionary Arts Museum in Baltimore is one of the best museums I've ever seen. Mink Stole from John Waters' movies is in the show. It's fucking awesome! She's awesome. It's all going to be awesome.

"Young, Broke, and Beautiful" premieres on IFC on Friday, June 24th at 11 p.m. ET