"30 Minutes Or Less" Trailer Is Raw And Red Banded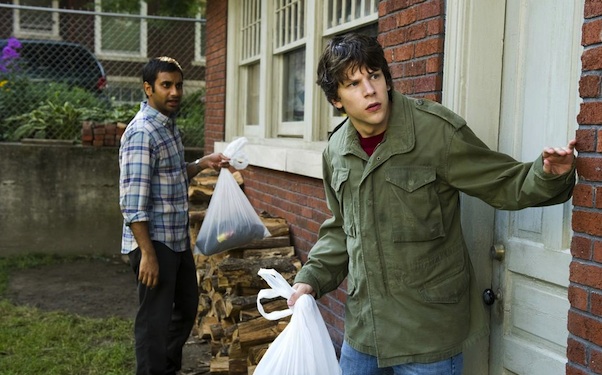 Posted by Matt Singer on
We've seen more red band trailers — coming attractions with adult content that are only permitted to play in theaters in front of R-rated films — in recent years, but not enough. In the age of the Internet, every R-rated movie should have an R-rated trailer. Take, for example, this new (and very funny) trailer for "Zombieland" director Ruben Fleischer's "30 Minutes or Less." To watch this red bander, all I had to do was put in my date of birth. That's the only restriction keeping kids out: if they can subtract 17 from 2011, they can watch. Personally I like to tell the age gate I'm 84 then weep for the degradation of modern culture during the oral sex jokes. "Back in my day we didn't say these filthy things! And we definitely didn't watch them on computers! Or have computers! Or chairs!" And so on.
Not that I'm condoning lying to age gates. I'm merely pointing out that the access to red band trailers is potentially a lot broader than it used to be. And red band trailers can paint a much more accurate portrait of an R-rated movie than green band trailers. This "30 Minutes of Less" spot is a good case in point. And remember, people. This sucker's red band and fairly NSFW. You might want to wait until you're officially off the clock for the weekend before you dive in:
I liked Fleischer's "Zombieland" a lot, and it looks like he found another strong vehicle for Eisenberg, plus a perfect part for McBride (I've already put "Your Highness" behind me). I'm looking forward to this one when it opens on August 12.
Psyched to see "30 Minutes or Less?" Tell us in the comments below or on Facebook and Twitter!