Will Ferrell and Zach Galifianakis "Between Two Ferns"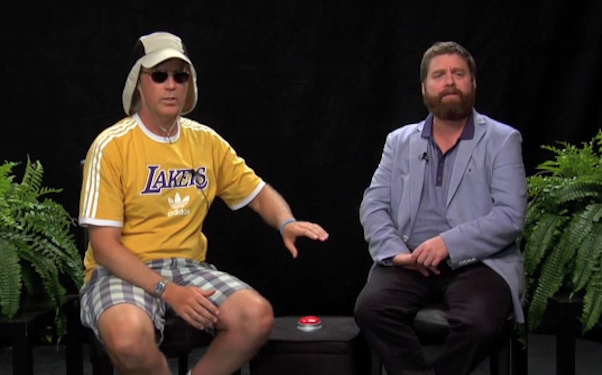 Posted by Matt Singer on
I'm not sure everyone who loves Zach Galifianakis now realizes how long he's been in show business. Before he became a star seemingly overnight in "The Hangover," he toiled away for years as a stand-up and in small roles on television. For a few months in 2002, he even had his own talk show on VH1, "Late World With Zach." Basically no one watched it, and it was cancelled with a swiftness that makes "The Pat Sajak Show" look like a runaway hit. Of course, if were on now, and Galifianakis did the exact same show (skits like this one, for example), it would be a runaway hit.
So when Galifianakis does his "Between Two Ferns" videos on Funny Or Die, he does them from a place of experience, not just as a talk show guest, but as a talk show host. Only he's deconstructed things even further than he did a few years ago; the newest episode, with Will Ferrell, is maybe the most anarchic yet. Many "Between Two Ferns" have followed a formula — Galifianakis, the clueless, terrible host, with his celebrity guest as the unprepared straight man or woman. But Ferrell's in on the joke as well, in an "hey I just took acid too!" sort of way. The result is almost an avant-garde short in the form of a talk show parody. Beware though, office workers, the enhanced weirdness includes some pornographic zoological footage and foul language.
I do love that at the same time Galifianakis has monetized this popular series, bringing on an actual sponsor, he's only made the show stranger and less accessible. With his movie career punching his ticket, he doesn't have to worry about inclusiveness, least of all with TV executives who, I'm sure, would love a "Between Two Ferns" TV show, but would probably want a little less, y'know, chimp on frog oral sex. Where "Between Two Ferns" once had a real clear premise and hook, now it's unorganized chaos, profane, bizarre, illogical, occasionally homoerotic, and absolutely hilarious. Also, if Will Ferrell ever actually made a movie where he played the coach of a hip hop dance team I would melt into human jelly.