Why Same-Sex Relationships Matter in "Mass Effect"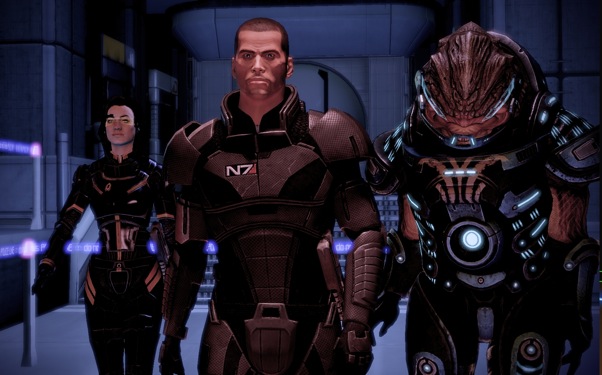 Posted by Evan Narcisse on
BioWare's "Mass Effect" titles offer a stunning amount of scale and ambition in the experiences they offer to gamers. The two installments in the sci-fi action RPG series have been space opera of the highest order, and unique in the amount of personal investment it generates in the people who play. That investment starts with the Commander Shepard you make as your avatar. Shepard can be male or female and loyalist camps have sprung up around the actors-Mark Meer and Jennifer Hale, respectively-who give voice to the male and female versions of the character, called BroShep or FemShep by fans.
The investment continues in the agonizing storyline choices you make. Are you a hard-ass, take-no-prisoners Renegade, who lets enemies die even if you could save them? Do you let entire species become extinct? Or do you play as an altruistic Paragon, turning to diplomacy before force and pursuing justice instead of vengeance? The decisions you make ripple outward in the fictional universe, influencing how tertiary characters talk to you and interact with you.
But, the relationships that are arguably the most important of all in "Mass Effect" haven't shown the kind of depth and openness that the rest of the game has. Romance options in the first two games have skewed heavily to the heteronormative. Shepard could only woo members of the opposite sex in "Mass Effect" and "Mass Effect 2," with an exception made if you played a female Shepard and wanted to get with another woman. This situation came under fire for being exclusionary, and always seemed a dunderheaded move to avoid controversy.
Not that it's worked, though. "Mass Effect"'s handling of sex was the subject of an infamous, fear-mongering Fox News report shortly after the first "ME" game came out.
But the question's always been why? Why no guy-on-guy? I don't think prurience or titillation's ever been the issue, as the groping displayed in "Mass Effect" romances never gets hotter than a PG-13 level. No, the why has always been a more philosophical question. In a wide-open universe where all kinds of races comingle, why isn't it a romantic option for players to have their avatars involved in whatever relationships they wanted?
Well, we may never know the answer but we do know that that's changing. Two days ago, Casey Hudson, Executive Producer of the "Mass Effect" series tweeted the following:
Happy to confirm #ME3 supports wider options for love interests incl. same-sex for m&f chars, reactive to how you interact w/them in-game.
Now, character relationships in the "Mass Effect" games carry over so, if players do want to change their orientation of the romantic relationships, there 's going to be narrative dissonance between chapters. If your Shepard goes from girls to guys from "ME2" to "ME3," the writers at BioWare might be hard-pressed to explain how or why Shepard switches teams. One thinks that they'll likely be up to the task. Most importantly, your Shepard will be able to face the threat of the galaxy-destroying Reapers with the love of someone you feel he deserves. There's no better reason to save the universe than that.