Watch The Cast of "Willy Wonka" Reunite 40 Years Later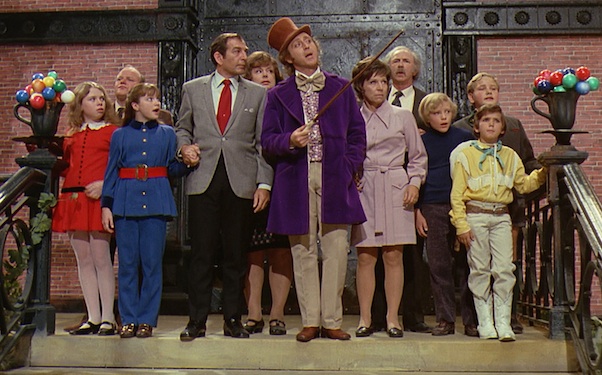 Posted by Matt Singer on
A great and mildly homicidal chocolatier once sang "There is no life I know / To compare with pure imagination." But it would take the purest of imaginations to predict what the kids of the classic children's film "Willy Wonka and the Chocolate Factory" would look like as adults. So much older! So mustachey! And not a single one looking like a giant blueberry. How disappointing.
For the fortieth anniversary of "Willy Wonka," "The Today Show" reunited most of its child actor cast to reminisce about the making of the film and marvel at the fact that the guy who played Augustus Gloop still dresses like that. It's just a shame Gene Wilder isn't there to join in. How great would it have been if he showed up in character? I must admit, when I saw the gang seated without him, I half expected Wilder to magically appear in a puff of smoke, dressed in purple velvet coat and brown top hat and trailed by a couple Oompa Loompas. If he had, how do you think the others would react? My bet's on combat shock flashbacks a la Sylvester Stallone in "First Blood."
If you want to view nostalgia paradise, simply look around and do it (i.e. click the video below). And then prepare yourself for the inevitable weeping over lost youth and the inexorable march of time. Life ain't no everlasting gobstopper, folks: it don't stay sweet and perfect forever. Or, if you're a more cynical person, life is an everlasting gobstopper: it sucks forever until you die.
[H/T /Film]