We're Not in Dogme 95 Any More, Toto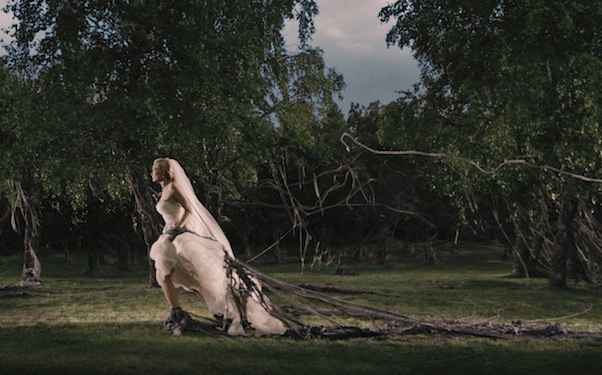 Posted by Matt Singer on
Via Bleeding Cool, a beautiful effects reel from Lars von Trier's upcoming film "Melancholia," which premieres in mere days at the Cannes Film Festival.
The video, by effects house Platige Image, really showcases von Trier's insanely awesome (and awesomely insane) attention to detail, and the degree to he radically alters even seemingly innocuous images using digital technology. Kirsten Dunst may look like she's walking next to a tree, but that tree was added later, along with the moon, that other planet, and about eight other things in the frame. We're not in Dogme 95 anymore, Toto.
If this is the first you're hearing about it, "Melancholia," which will be released in the United States by Magnolia Pictures in November, is an end-of-the-world movie about two sisters played by Kirsten Dunst and Charlotte Gainsbourg. And when I say end-of-the-world movie, that's exactly what I mean; according to von Trier, the film begins with the destruction of the entire Earth, then flashes back to the last days in the lives of its characters.
There was a lot of discussion about how much of von Trier's last film, "Antichrist," should or could be revealed by critics and writers. I was lucky enough to see "Antichrist" at its first Cannes screening, and got to appreciate it completely unprepared for what was going to happen. The suspense was a big selling point. "Come see what freaked out the international film community at Cannes!"
Now, it seems, von Trier is trying something radically different. He's such a confrontational director that I wonder if part of his reason for making this film, and for declaring exactly what happens in it in advance, is a response to the "Antichrist" reaction and an an attack on our spoiler-obsessed culture. "You care that much about what happens? Well fine, I'll tell you what happens before you've even set foot in the theater."
The reel above shows there are lots more potential pleasures to this work beyond narrative twists. I'm plenty jealous I won't get to see the film this week at Cannes, but I'll be there in November.