Exclusive premiere: The surreal video for Balmorhea's sublime "Candor"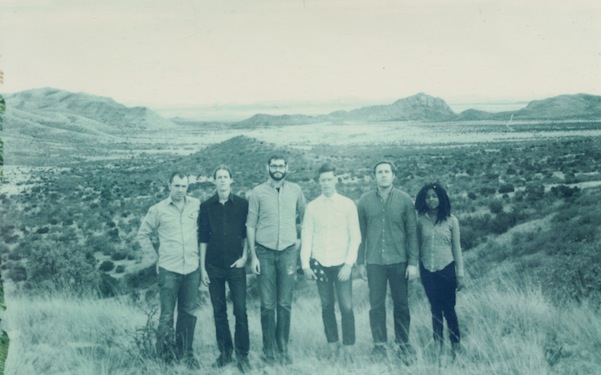 Posted by Grayson Currin on
Balmorhea is an instrumental ensemble from Austin, Texas, with a propensity for fluctuating memberships: At the start, the band was just Rob Lowe (not that Rob Lowe, or even that one) and Michael Muller, multi-instrumentalists making paradoxically tiny epics. Sure, their sound was small, but their music's scope was grand, suggesting cinematic landscapes and climaxes. Over the last four years, the band has grown to include a web of strings, drums, percussion, voices and electronics. Their sound has grown, too, peaking with the clangorous 2009 album All is Wild, All is Silent and nicely drawing itself back in with last year's excellent Constellations.
Late last year, Balmorhea released Candor/Clamor, a seven-inch that showcases the range of their ideas. As the title suggests, "Clamor" is a loud, riveting number, with battered piano keys and a sharp bassline. It's one of those big Balmorhea crescendos, bottled and sold on a smaller scale. (Download it here.) "Candor," however, eases through the same musical idea, using subdued bass and a stack of marimba lines to create an easy, open and sometimes nearly silent space.
Director Mike Anderson recently gave that song a surreal, interstellar video treatment, where separate civilizations prepare to reckon their coexistence. We talked to Balmorhea cofounder Lowe about the video and the future direction of Balmorhea.
Balmorhea started as you and Michael Muller, but it's grown over the years to be a pretty large ensemble. Did you have that size and scope in mind when the band began, or has it simply grown from necessity?
When we started, we really didn't have a goal at all. Both Mike and I had never really been in bands before. We didn't really know what it meant to try to make music and to try to get out there and have fans and tour and all that stuff. We really were pretty clueless about anything having to do with the industry of actually making music and performing live. We started out simply by making the music that we were interested in hearing from what we listened to and performing for our friends. And as we went, the ideas started to grow naturally, and we started playing with friends. It's not like we started at a certain place with what we had, hoping one day to get at a bigger place. We've expanded and contracted in sound and energy, and done some different things, but it always just kind of depends on what we have going on creatively at the moment.
With bands that contract and expand, there's always a question of exactly who the band is? The Mountain Goats, for instance, have had a drummer and bassist for years, but The Mountain Goats are still John Darnielle. Who is Balmorhea?
It's hard to define. I think when it comes down to it, Michael and I, we run the band. We're each responsible for making things happen, creatively and whatever else comes along with it. We started it, and we had the ideas. At the same time, so much of what we do would be totally impossible–I mean, maybe not necessarily impossible–if it were not for the individual collaborators that we have. Aisha [Burns], our violinist, has been playing with us for a really long time, and she's super valuable. She contributes a pretty distinct voice to what we do. We've had a number of members come and go over the past few years, and we've shuffled around a little bit. We have a new drummer who's really great. We're working with a guy, Dylan [Rieck], who lives in Seattle and plays cello. We're super dependent on other people to come with us and help us explore some of these ideas, whoever it may be at the moment.
Speaking of breadth, "Clamor" and "Candor"–the two sides of the new seven-inch–really show the two sides of Balmorhea, too. One is loud and almost heavy, while one is as ephemeral and distant as anything you've ever done. Was that the goal, to show the band's range?
We shuffled things around and went through a period where we hadn't really written much for a while. I think we were like, "Let's just do something, let's do something quick." We basically wrote it and recorded it in two days. The songs came together pretty quickly. That was after Constellations, probably maybe six months after Constellations. The idea was constantly having new ideas and not to get stuck doing the same thing over and over, because it gets pretty boring. We just wanted to go in and say, "What can we do that's different?" We brought in some different instruments; we had some different players. If you listen to the two tracks, they're very similar. You could almost say they're the same thing, structurally, and they're using a lot of the same chords. It's not that easy to pick up on, but it's pretty much the same thing, just through two different lenses. But it's definitely in a way representative of certain musical ideas that we're trying to explore.
Which song came first, "Candor" or "Clamor"?
I think "Candor" came first and then "Clamor," but I couldn't be positive about it. We came up with this beginning section that's on the marimba and has four of us playing on it at once. We came up with the groove from that. I think the next day, we took that groove and put it on the piano and kind of pounded it out. Idea-wise, they probably happened pretty much at exactly the same time.
The band launched a website just for a limited-edition single. What was the goal with that?
There's a lot of groups that will have a specific place you can go online and learn about a release. I think for us–a small band, making a small release of two tracks–we thought, "Let's try to do something interesting with the way that we present it." We only did 500 copies of it and those sold out pretty quickly, so we thought maybe we should do a place online where people can go and learn a bit about it. I made a couple of videos that we put up there as well. My girlfriend did the photography for the package, and I wanted to incorporate that into a website as well. It's something that's a little bit more personal and creative than a Facebook post.
On that website, a video also accompanies each song, meaning there are now two videos for "Candor." How do the two stand apart for you?
I made the videos for the ones that went online. I don't really think of them as music videos; they were more just some imagery to accompany the sounds, just things that I thought matched up a little bit. I'm not a video artist, not a director. I've never worked with video, so I didn't want to try to promote it as an artistic statement. I just wanted to have some imagery to accompany the songs for the website. We talked to Mike Anderson, and I really like what he does. We had done one music video in the past, and that one had a pastoral, natural, nondescript imagery to it. We wanted to give someone else full creative license to do whatever they would with the music. I think Mike did that.
Was that unnerving at all, just handing someone your piece of music and saying, "Do what you think is best"?

It's pretty cool, giving someone this music and saying, "Do whatever you want." All of a sudden in your inbox, there's a video someone has worked on a lot to say something different than you might ever imagine saying with a piece of music.
I read some comments about what he was thinking about it, which definitely color what I think about it. But there are these two characters, these two female characters, and one is kind of taking a trip from one place to another, from some place that she knows to some place that she doesn't know, where she's foreign. It paints a picture of this world that is not defined in a lot of ways. Both of the characters are painted a little bit like they're evil, but also not. Everything is really nondescript, which I appreciate. What he was saying is that he wanted to paint a picture of a moment, like a clash, that happens between two cultures. He was saying that he thought that was an important theme in the last decade–clash of cultures. He wanted to portray a certain moment in which there wasn't really any drama, but it was setting the scene for two different viewpoints coming together and cutting out before you actually get to the narrative or the drama. That is something that, even in our music-making, we value and we've done a lot. The fact that the music is instrumental, we don't get to be super specific. We don't get to be super narrative about what we're saying, so it's always a little bit undefined. That's something I feel like he identified in the music and was able to translate into the video.
What's next for Balmorhea? It's been about a year since your last LP, and you've released a record every year since 2007.
Over this past year, we've still been touring, but I moved out to a small town in west Texas near Marfa, a town called Alpine. Some of our people are still in Austin. Michael moved to New York. Our cellist is in Seattle. Over the past year, we've spread out a fair amount, which means we haven't had quite the time to get together and write new material. We've been playing a lot of the older stuff, which I guess there's plenty of, for us to play on our tour. But I'm moving back to Austin in a couple of months, and I think the plan is to get to work on a new record.
We're going to go up to Chicago and record for four or so days in September, try to get some foundation for the record. We're trying a new approach for the next one. We've always done stuff pretty much live, but I think we're going to try to take a little more time with the next album and piece it together over a longer period and work with some new sounds, different sounds.
Balmorhea's often been mentioned with regard to its rural musical landscapes. Now that Michael is living in New York, do you think that might affect the way the band sounds or approaches composition?
Definitely; I hadn't thought about that. My experience is that the places that I live seem to affect me oppositely in terms of the kind of stuff that I'm liking. When I was living in Austin, I was starting to like a lot more traditional music, folk and country. Then I moved out to a small town, and my urban ears have been perked. I'm wanting to work with more modern sounds. I haven't talked to Michael about it, but surely in New York, I'm sure that would influence him in some way. I'm not sure exactly how.