Trailering: "Martha Marcy May Marlene"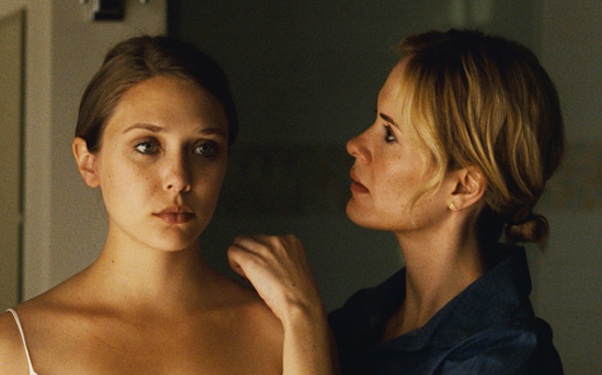 Posted by Matt Singer on
Despite one tongue twister of a title title — I've heard "Marsha Martha May Marlene" and "Martha Marsha May Marlene" and at least one "Martha Martha Martha Marlene" from someone who just couldn't be bothered — "Martha Marcy May Marlene" picked up some serious buzz at its debut earlier this year at the Sundance Film Festival. Director Sean Durkin had previously produced the fantastic indie drama "Afterschool," and for this film he assembled a strong cast including recent Academy Award nominee John Hawkes, Sarah Paulson, Hugh Dancy, and Elizabeth Olsen, the heretofore unknown sister of famous child acting twins Mary-Kate and Ashley. According to Durkin the film is "about a girl named Martha who escapes from a violent cult and struggles to reassimilate with her family when she returns home." By all accounts, Olsen gives a star-making performance, Hawkes is scary as hell, and Fox Searchlight picked up the movie.
I've already posted a few trailers this week, but we had to squeeze in this one. Looks creepy as all get out.
I pulled that plot synopsis from this video interview with Durkin conducted by the Sundance Film Festival. In it, he talks about his inspirations for the film, which he also wrote, the research he did into cults, and his own childhood connection to religion. I've embedded it here for some more context and teasery.
The movie opens in limited release on October 7. It's definitely on my list of my most anticipated films coming in the second half of 2011. For more info, go to the film's even more tongue twistery website MarthaMarcyMayMarleneMovie.com. Five m's! How much wood could a woodchuck chuck if a woodchuck could chuck "Martha Marcy May Marlene?"