"Toy Story 3" Director Rocks "Win, Lose, Or Draw"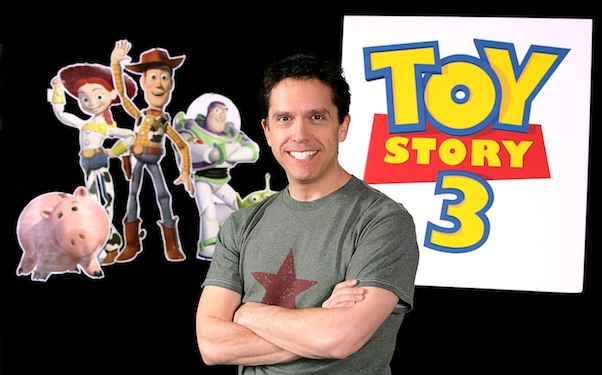 Posted by Matt Singer on
"Toy Story 3" director Lee Unkrich must have lost a bet. That's was my first thought when I saw this tweet yesterday afternoon:
"Video facts: 1) I was 20 years old 2) I was plump 3) I was coerced into buying that sweater by the show's producers youtube.com/watch?v=x4cLbm…"
The link takes you to this video: college student Unkrich appearing on the classic early '90s game show "Win, Lose or Draw:"
It's a strong episode, with celebrity guests Pat McCormick, Paul Williams, Donna Pescow and Edie McClurg, who later went on two appear in two Pixar films that Unkrich helped edit, "A Bug's Life" and "Cars." Unkrich also tweeted that he's told McClurg about their shared history but that she doesn't really remember it.
Unkrich did lose a bet, in a matter of speaking. Or maybe he won it. Oh, let's call it a draw. He'd vowed to post "an embarrassing old video" when he reached 100,000 Twitter followers. Today was the day and Unkrich was a man of his word. And his Cosby sweater.
Actually if you watch the whole thing (and I highly encourage you do), the video's not that embarrassing. Yes, he's a little chunky. Yes, the sweater is terrible. But he does win the game, he's a sketching savant, and he absolutely slaughters the bonus round, plowing through tough clues like tonsil, throne, and pelican. Plus, when host Bert Convy asks him what he does, and he explains that he's student at USC, he gets to drop this little prophetic nugget: "I plan on eventually studying film. I'd like to be a filmmaker."
Since it seems like fun — and since I'm impossibly far from that milestone — I will make the same wager: if I get 100,000 followers on Twitter, I'll post an embarrassing video of myself on YouTube. And, in fact, I'm so confident I will never have to pay up on this bet, I will put up multiple ones if I do, including a high school musical performance, my first video piece for IFC (which is so bad I've previously vowed never to let any human see it ever again), and my own appearance on a '90s game show. Go ahead, readers. I dare you to make me do it.