The Summer's New Hero: Thor-ge W. Bush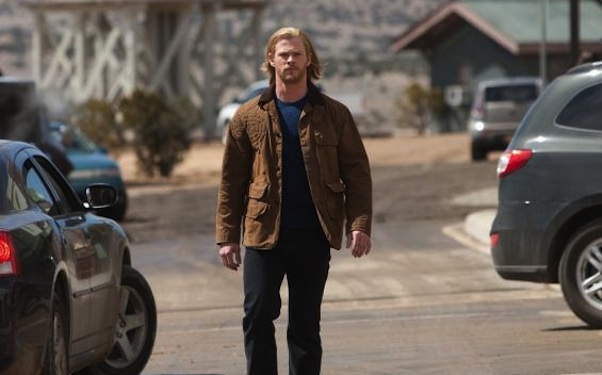 Posted by Matt Singer on
This post contains SPOILERS for the movie "Thor." If thy desire is to avoid details about the plot of this buster of blocks then, verily, thy dost need to read something else this fine May morn.
I don't know Kenneth Branagh's politics. I don't know the politics of screenwriters Ashley Edward Miller, Zack Stentz, Don Payne, J. Michael Straczynski, and Mark Protosevich. All I know is when I saw "Thor" last week, I became convinced that it was all about George W. Bush. Chris Hemsworth looks like Thor, the superheroic God of Thunder from Marvel Comics. But his story is a straight-up allegorical fantasy of the last decade of American foreign policy; the misadventures and redemption of Thor-ge W. Bush.
Our hero, Thor(ge), is the arrogant son of a powerful ruler of interdimensional beings called the Asgardians. Their sworn enemies are the Frost Giants, icy villains from the world of Jotunheim. Centuries earlier, Thor's father Odin defeated the Frost Giants and left their civilization lying in ruin, but decided not to depose their ruler Laufey. On the day that Thor is to be sworn in to replace Odin as the new King, the Frost Giants mount an assault on Asgard's home soil. They infiltrate Odin's armory and attempt to steal a mystical casket; Thor, believing that the best defense is a good offense disobeys his father's orders and leads a small party of warriors into Jotunheim for a retaliatory attack. The battle is not successful, however, and as punishment for his impudence, Odin strips Thor of his mystical powers and exiles him to Earth, where he must redeem himself before he can reclaim his place as heir to the throne of Asgard.
Granted, lots of this stuff is taken from the original Marvel Comics first created by Stan Lee, Larry Lieber, and Jack Kirby in 1962. Their very first Thor comics involved the God of Thunder displaced on Earth learning a similar lesson in humility by sharing a body with a doctor named Donald Blake (listen closely and you'll hear references to this guy in the movie; he's Jane Foster's ex-boyfriend). But Branagh and company's take on the Marvel mythos is a bit different, and rather blatantly reflective of the reign presidencies of the Bushes George.
According to some narratives about the War in Iraq (like Oliver Stone's biopic "W.") President George W. Bush invaded Iraq primarily to correct the oversight he felt his father made back in 1992 when he left Saddam Hussein in power at the end of the first Gulf War. Stone's version is surely a simplification, but he thinks it all boils down to daddy issues: W. could never live up to George Sr.'s expectations, so he set out to do the one thing his dad never could.
That's basically what happens in "Thor:" cocky son of the King wants to finish the job started by his father with a preemptive strike on their enemies, but he goes off half-cocked without much of an exit strategy. You could argue that Thor's brother Loki represents Vice President Dick Cheney, the seemingly subservient right-hand man who exerts an undue amount of influence on the Commander-in-Chief and maybe even craves the throne for himself. The two themes that thread their way through "Thor" are issues about fathers and sons and the question of what is the proper use of military force. As Odin tells Thor before he journeys to Jotunheim, "A wise king never seeks out war, but must always be ready for it."
All of these parallels hit in "Thor"'s first act while he's still in the mystical realm of Asgard. After he's dumped in New Mexico — which does bear a certain arid physical resemblance to Iraq — he comes into conflict with S.H.I.E.L.D., another concept with its roots in Lee/Kirby Marvel Comics that's also been reformulated for post-9/11 resonance. Instead of the comic books' clandestine organization of James Bond-ish super spies, the S.H.I.E.L.D. of "Thor" acts like a Patriot Act nightmare, surveilling people and confiscating private property with impunity. Even when they find the weapon of mass destruction in the desert — Thor's mystical hammer, Mjolnir, sent to Earth along with him — they don't even know what to do with it.
Eventually the film's real world connections begins to fall away; if they didn't, "Thor" would have to end with the God of Thunder deposed to Texas after credit default swaps cripple the Asgardian economy (then again Thor's outfits on earth, khaki jackets over blue shirts and slacks, do look a lot like W.'s ranchwear when he's chainsawing brush down in Crawford). In some ways, though, the events that follow Thor's dismissal by Odin represent a kind of dream of how we wish things had turned out in the last decade, as the world is saved and united by a leader who understands that might doen't always equal right, but isn't afraid to kick a little ass when it does. We'll have to see whether writer/director Joss Whedon carries over these parallels when he brings Thor into his movie of "The Avengers" next summer. In that movie, he'll be hanging out with Captain America, a symbol of American patriotism from a simpler era, The Hulk, our fears of nuclear war made flesh, and Iron Man, a weapons manufacturer who also learns that the wise never seek out war but must always be ready for it. The potential is there to assemble a lot more than a bunch of famous comic book characters.