"Magnificent Ambersons" Finally Coming to DVD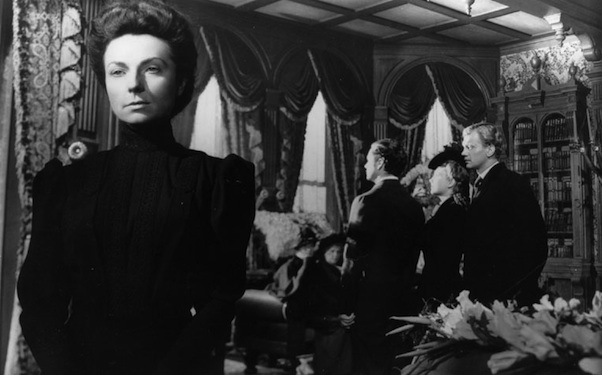 Posted by Matt Singer on
As spotted by Badass Digest, Amazon just posted a pre-order for an exclusive "Ultimate Collector's Edition" Blu-ray of Orson Welles' masterpiece "Citizen Kane." This is news in and of itself, I suppose, since the set represents the film's first appearance on Blu-ray and it includes all sorts of goodies, like the documentary "The Battle of Citizen Kane," the biopic "RKO 281," a book, lobby cards, a bottle of vintage Paul Masson wine, a lock of Orson Welles' beard hair, etc. But the real attention grabber for Welles fans is the fact that the set includes Welles "Kane" follow-up "The Magnificent Ambersons" on DVD as a bonus disc. Somewhat mind-bogglingly, this will be the first time "Ambersons" — a film widely regarded as one of the finest ever made — has ever been released on a Region 1 DVD. How is that even possible?
I'm not a big believer in curses, but "The Magnificent Ambersons" might just be a cursed film. After the studio, RKO, decided the original cut was too long and too big of a bummer, they demanded changes. But since Welles was out of the country shooting another film, they recruited his editor Robert Wise (who went on to become a fine filmmaker in his own right) to chop more than a half hour out of the film and reshoot the ending. Don't hold your breath for a restored director's cut either; the original negatives of the deleted scenes were "later destroyed in order to free vault space" according to Wikipedia. Other than the one time my own wiki page was updated to include my childhood nickname ("Matt Singer: Booger Flinger") I have never more desperately wished that Wikipedia was wrong about something.
As BAD notes, "Ambersons" is included on DVD even though this it's part of an "Ultimate Collector's Edition Blu-ray of "Citizen Kane." Which is ironic; we've waited so long for an "Ambersons" DVD and now that the format's practically obsolete, it's finally here. Somewhat cruelly, the back of the DVD box art even proclaims that it's "DIGITALLY REMASTERED FOR ENHANCED PICTURE AND AUDIO QUALITY!" This might not be the only "Ambersons" release coming down the pipeline; the fact that Amazon has separate box art for the film leaves room for hope. Maybe someday the curse will be lifted.