The Girl With the Potentially Leaked "Dragon Tattoo" Trailer?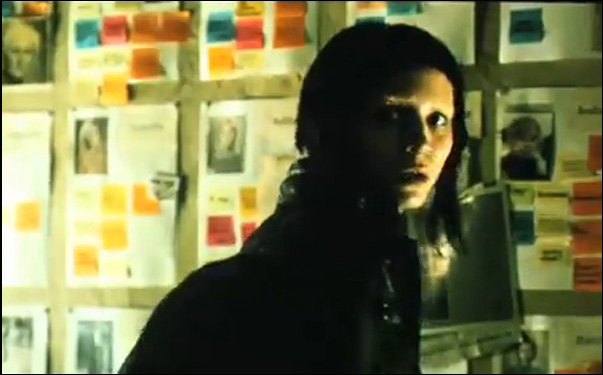 Posted by Stephen Saito on
A mystery that might be best left for Lisbeth Salander to solve, a red-band trailer for David Fincher's eagerly anticipated adaptation of Steig Larsson's "The Girl With the Dragon Tattoo" popped up on YouTube over the weekend. Set to a Karen O-Trent Reznor cover of the Led Zeppelin classic "Immigrant Song," it is a stunner without a single word of dialogue.
But over the holiday weekend, the bigger question became whether the seemingly bootlegged trailer, which is said to have originated with a YouTube user in the Netherlands, actually stunned anyone at the film's distributor Sony, who have yet to pull the clip. As Devin Faraci at Badass Digest suggests, the MPAA red-band wouldn't be shown in Europe and as The Hollywood Reporter's Gregg Kilday adds, the minimally risqué trailer featuring a fraction-of-a-second of Salander side nudity and a bloodied Daniel Craig is able to circumvent the normal age restriction process studios must abide by online if it were an official release. Add in the pristine picture and sound quality and the thematically appropriate nature of a leak to kick off a viral campaign and it all seems to make sense.
Then again, SlashFilm's Peter Sciretta wisely noted Fincher's longtime aversion to releasing trailers in anything but the highest quality online, that is on the rare occasion when he's released trailers before they've shown in theaters first. It also is entirely possible that the marketing team at Sony is too busy enjoying Memorial Day to pick up the red telephone and remove it from YouTube, or simply celebrating the fact that it appears to be a huge hit a week before it's scheduled to hit American theaters. Regardless of what holiday it is – the trailer announces it will be "The Feel-Bad Movie of Christmas," coming out December 21st — the rebel yell of Karen O would seem to be infectious among film fans.
UPDATE: Sony took down the red-band trailer on Tuesday, but posted their official green-band one. Here it is below:
What do you think of the controversy? Tell us in the comments below or on Facebook or Twitter.