The Five Most Bad Ass Quentin Tarantino Characters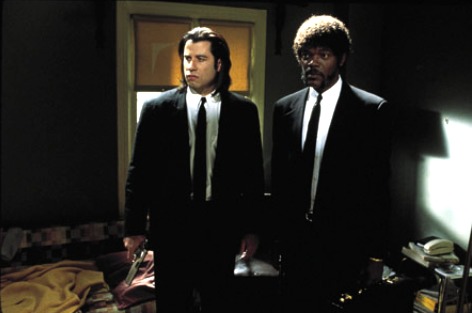 Posted by Melissa Locker on
Tonight at 10 p.m. ET we are showing Quentin Tarantino's cinematic tour de force, "Pulp Fiction". The movie not only put Tarantino on the map as a writer and director to be reckoned with, but also marked the come backs of both John Travolta and Bruce Willis and reminded the world of the charms of Uma Thurman, Eric Stoltz, and Samuel L. Jackson. Jackson's character, Jules Winfield, has become one of the most recognizable bad asses on the silver screen. In fact, Tarantino has a history of putting some scary mofos in his movies, so we decided to rate them.
Here are the five most bad ass Quentin Tarantino characters. Care to argue? Head to the comments:
5. Mr. White, "Reservoir Dogs"
Played by Harvey Keitel, Mr. White is almost as scary as Harvey himself.
4. Jules Winfield, "Pulp Fiction"
Played by Samuel L. Jackson, Jules is a force of nature and the hand of god. His ability to recite Bible verses on command is matched only by his foot massage skills.
3. Aldo Raines, "Inglorious Basterds"
Played by Brad Pitt, Aldo Raines marched in to a theater full of Nazis with bombs strapped to his men. Also, he collects scalps.
2. Vic Vega, "Reservoir Dogs"
Played by Michael Madsen, Vic Vega is stone cold scary. Don't argue, it's true.
1. Beatrice a.k.a. The Bride, "Kill Bill, Vol. 1 and 2"
Played by Uma Thurman, Beatrice pops out of a coma to defend herself, punches her way out of a coffin, goes headlong in to a club filled with deadly assassins to take down a killer, then she kills a man with just her five fingers. What have you done lately? Probably nothing.
"Pulp Fiction" airs on IFC at 10:15 p.m. ET