The Fast, The Furious, and The Old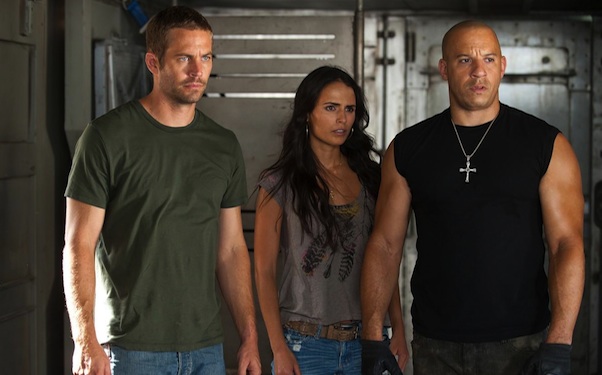 Posted by Matt Singer on
For a movie about speed, "Fast Five" is sure taking forever to dislodge itself from my brain. This is my fourth piece on the franchise in like ten days. I promise it's the last (probably).
As the positive reviews and massive box office attest, "Fast Five" satisfies as a straight-ahead action film. It's a very well-made Hollywood product. Pay your twelve bucks, turn off your brain, and let the punchy-punchy, vroomy-vroomy wash over you; you won't be disappointed. But if you don't turn off your brain, and you consider the entire scope of this now decade-long franchise, what begins to emerge in "Fast Five" is a moving story of mortality and lost opportunities.
Diesel and Walker aren't as young as they used to be; Diesel's 43, Walker's 37. In an era when Sylvester Stallone's still making viagra cinema in his mid-60s, they're definitely not dinosaurs, but they're not exactly kids, either. They're getting dangerously close to becoming what Chris Rock once called "the old guy in the club;" "not too old, just a little too old to be in the club." These guys used to be underground street racers; can you imagine a 43-year-old dude hanging out with underground street racers? And not just hanging around, but being the coolest guy in the entire scene? That's even more improbable that surviving a several hundred foot jump from a cliff to a river in a convertible. The whole thing sounds like the plot of a Judd Apatow spoof starring John C. Reilly.
In the parlance of the modern action movie, Diesel and Walker are getting too old for this shit.* By now the "Fast & Furious" franchise has long outlived the cache of the subculture that created it, hence "Fast Five"'s transition from drag race rebel story to heist film. Though Dominic Toretto and Brian O'Conner's activities in "Fast Five" are as outrageous and death-defying as ever, you're starting to see little cracks in the actors' armor of physical beauty. Walker's blonde hair isn't quite so blonde. Diesel's arms aren't quite as cut as they used to be. He's got just the tiniest bit of flab under his chin. And all the dudes' shirts in this movie seem a lot roomier than they used to be.
I'm not saying this to poke fun, but rather to observe the fact that ten years on these guys are still at this car chase game, and that lends "Fast Five" a certain subterranean whiff of melancholy. In a lot of ways "Fast Five" reminds me of "Jackass 3D," the third installment in the dudely prank franchise which began its life on MTV right around the same time as "Fast & Furious" did. Ten years later, the Jackasses are still at it too and as "3D"'s closing credits made clear, there's something kind of honorable about that, and also something kind of sad too. This is what these guys do. But even if they wanted to stop, they pretty much couldn't.
In the context of the film, Diesel and Walker's characters want to get out of the crime game because there's too many cops chasing them. But astute observers of these actors' careers know they've both tried and failed to leave this franchise before; they too wanted to stop and couldn't. Diesel split after the first "Fast & Furious;" Walker bailed after "2 Fast 2 Furious." Six years and however many flops later, they returned for the fourth film. Now the fifth movie is (rightfully) a massive success, all but ensuring a sixth (and, according to a recent interview by Diesel in Entertainment Weekly, maybe a whole other trilogy after that). "Fast & Furious" has an almost Corleonean hold on them: just when they think they're out, it pulls them back in.
I'm sure they're quite happy about it now, they're all making money hand over fist. But it is sort of amazing to think that this goofy franchise that started life as a story of hot rodding meathead philosophers is now about a bunch of guys desperately trying to stop doing the very things audiences come to watch them do. How long can they keep it up? At some point the only thing they're going to have to be furious about are the damn kids on their lawn.
*Danny Glover knows from Diesel and Walker's pain. He said he was getting too old for this shit in the first "Lethal Weapon." Then it became a huge hit and Murtaugh put off retirement for three more movies and eleven friggin' years.