The 25 Oldest Looking Teenagers in Movie History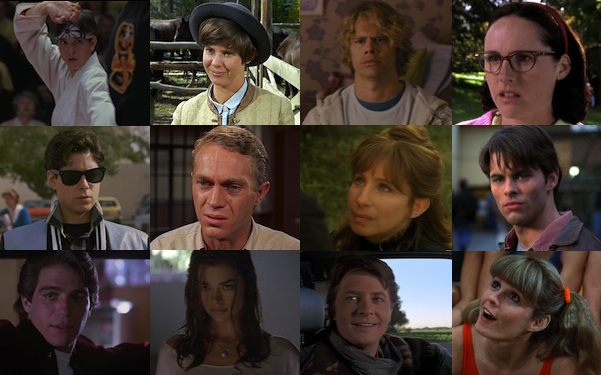 Posted by Matt Singer on
Beauty may be in the eye of the beholder, but in Hollywood, age is in the eye of the casting director. In the movies, playing a high schooler is less a matter of the actors' real age than the filmmakers' state of mind. Who cares if you're pushing 30 and married and you've got a couple kids? How do you look in trendy clothes? How are your sideburns? Good, you're hired.
True, movies are fantasies. And there are few fantasies more potent than high school fantasies: we've all indulged dreams of what our lives would have looked like if we'd only been more popular or more beautiful back in the day. But movies should also reflect reality, and so few high school movies do. And way too many feature casts that should be forced to read disclaimers before the film starts: "I'm not a real teenager, but I play one in the movies."
To catalogue the worst offenders, we decided to put together this list of the oldest looking teenagers in movie history. Note before we begin that this is not a list of the oldest actors to play teenagers. If our highly scientific method — i.e. looking at them with my eyeballs — determined that you passed for a teen, you didn't make the cut, regardless of actual age. Tobey Maguire was 26 in the first "Spider-Man." So was Sissy Spacek in "Carrie." Alan Ruck was 29 in "Ferris Bueller's Day Off," but you wouldn't know it from looking at him.
We were careful to disqualify anyone who wasn't definitely playing a teenager. Curtis Armstrong — a.k.a. Booger from "Revenge of the Nerds" — shows up on a lot of other old movie teenager lists for his role in 1985's "Better Off Dead," when he was 31 years old. But his character, Charles de Mar, jokes that he's been in high school for "seven-and-a-half years," which would make him about 23 years old. No good. Likewise, we ruled out Luke Perry in the original "Buffy the Vampire Slayer" movie because it's not entirely clear how old he is; he hangs around with Buffy, but he has a job as a mechanic and doesn't ever go to school. No good either; he'll have to wait for the inevitable oldest looking teenagers in TV history list. We also took into consideration the age of the character in question. A 21-year-old might be able to pass for 18, but 14? Not so much.
With those rules in mind, here's our list. You can find the index at the end, with links back to each entry. For the sake of ease and consistency, all ages were calculated based on their movie's release date. Now let's get things started before this intro gets too old too.
---
25. Kim Darby, "True Grit" (1969)
Age at Movie's Release: 21
Last year's remake by the Coen Brothers really threw into relief just how old Kim Darby looks in the original "True Grit."  Her character, Mattie Ross, is supposed to be a 14-year-old girl.  When the first "True Grit" came out in the summer of 1969, Darby was a few weeks from her 22nd birthday.  When you compare her to the Coens' Mattie, played by a then-14-year-old Hailee Steinfeld, the contrast is striking.  And it's not just a matter of looking the part; looking the part changes the impact of the story, which is about a young girl hiring a U.S. marshal to help her track down and kill her father's murderer.  Steinfeld looks like a little girl, and her physical immaturity amplifies the absurdity of the comic scenes and the stakes of the dramatic scenes.  Darby looks like a young woman by comparison, and a much more reasonable traveling companion for a western hero, someone who could back up her spunky words with her fists.  That makes her a better foil for John Wayne's Marshal Rooster Cogburn, but a poorer fit for Mattie Ross.
---
24. Kevin Coughlin, "Wild in the Streets" (1968)
Age at Movie's Release: 22
In the 1960s, American International Pictures was the studio for teensploitation: beach parties, juvie gang pictures, and other assorted drive-in friendly fare. One of the weirdest of the bunch is "Wild in the Streets" a hybrid rock 'n' roll and youth movement film. It's about a socially conscious young rock star, Max Frost (Christopher Jones), and his efforts first to lower the voting age to 14 and then get himself elected as president of the United States. Max and most of his band are supposed to be in the 20-25-year-old range, but most — including a pre-superstardom Richard Pryor — are much closer to 30, the horrifying age that they all say they'd rather die than reach. The one teen in the band, Billy, is supposedly 15, "the youngest graduate in the history of Yale Law School." But actor Kevin Coughlin was an obvious 22; he'd already left Hollywood for a few years to get a degree in theater from Northwestern University. "Wild in the Streets" is a fascinatingly weird movie with a dark sense of humor and a bleak attitude about politics and our government. The fact that all of its pro-youth, anti-adult messages were being fed to the audience by a bunch of near-30-year-old fogies only makes its worldview feel even more cynical.
---
23. Amanda Bynes, "Easy A" (2010)
Age at Movie's Release: 24
I have no idea whether Amanda Bynes' inability to graduate into less kid-focused fare was the reason for her temporary retirement from acting in 2010 (when she tweeted "I don't love acting anymore, so I've stopped doing it") but it wouldn't surprise me. The poor woman has been in high school for a loooong time. Bynes snuck into the job market, however briefly, on her television show "What I Like About You," but otherwise spent the totality of the 2000s lost in compulsory education in films like "What a Girl Wants" (2003), "She's the Man" (2006), and "Hairspray" (2007). She was still seeking that ever-elusive diploma at age 24 in last year's "Easy A" from director Will Gluck, who we'll later see clearly prefers casting his high school comedies old. Interestingly, though Bynes had always played the plucky heroine, in "Easy A" she's something of a villain, a fundamentalist Christian who spreads lies about that film's plucky heroine (22-year-old Emma Stone, who'd already played a college co-ed in "The House Bunny" two years earlier). It's as if ten years in high school with no end in sight had curdled her perky persona into antisocial bitterness.
---
22. Kerr Smith, "Final Destination" (2000)

Age at Movie's Release: 28
Movies have nothing on television in the doddering teenagers department. "Beverly Hills 90210," "The OC," "Gossip Girl," "90210" again, you know the worst offenders. Most cast members didn't make teen movies — probably out of fear of being typecast — but a few did. "Dawson's Creek" co-star Kerr Smith's turn in the first "Final Destination" is maybe the best worst example. He plays the jock of a group of survivors who get off a doomed transatlantic flight just before takeoff, and if he looks like he's got half a decade on the main character played by Devon Sawa, that's because he does. (Sawa was 22). It is weird how athletes in movies take on such freakishly adult attributes. They're the nightmare versions of jocks dreamt up by their victims, the nerds who all grew up to become filmmakers. Personally, I feel like whatever evil force is killing the unplanned survivors could actually care less that Smith didn't die in the plane crash. It just wants to get this guy for hiding from death in high school for years and years. By the way, give Sawa credit for having something in "Final Destination" that no one on this list — but just about every real teenager — has: acne.
---
21. Shaquille O'Neal and Anfernee Hardaway, "Blue Chips" (1994)
Age at Movie's Release: 21 and 22
By the time Shaquille O'Neal and Anfernee "Penny" Hardaway appeared in 1994's "Blue Chips" as high school prospects recruited by a dirty university, they were already playing professional basketball together for the NBA's Orlando Magic. True, they don't look wildly out of place roaming college campuses (as a matter of fact, both men left college early for the NBA draft, meaning they could have still been upperclassmen in 1994). But if you look at pictures of Shaq at LSU or Penny at Memphis State you'll see significantly shrimpier dudes than the bulkier, more physically developed guys who show up in "Blue Chips." And even more than their physical appearances, it's their behavior on the court that really gives them away. These aren't raw, untrained talents; they're clearly two of the best basketball players in the country, if not the world. No wonder they're blue chips. They're not nearly green enough to be credible as 17-year-olds.
---