Stream Thurston Moore's "Demolished Thoughts"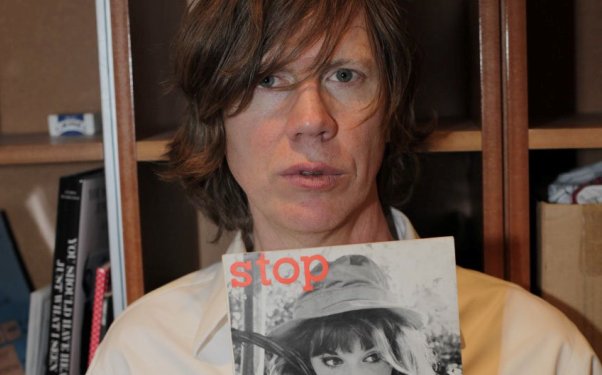 Posted by Brandon Kim on
The day was due to come when Thurston Moore would work with Beck on some extraordinary recordings, the likes of which could potentially rip a hole in the space-time fabric of your Chucks. Would the two mop-haired wonders create a cacophony so great that you needed headphones for your earbuds just to listen to it… or would they deliver something more lovely?
The first time Thurston Moore caught Beck, the latter was doing his thing in LA at a show in the early 90's. "Beck only sang a couple of songs, both about TV destruction and toxic inhalants, before he lifted a German Shepherd over his head and threw it into the crowd," Moore wrote. "I was from NYC and had never seen a real live canine fly before but I caught the beast and he licked my forehead and whispered into my ear, 'Beck's a good dude, wait until he grows into the #1 sweater anti-surf rider of Malibu and let him read your mind.'"
The results are somewhat surprisingly, lovely. The record is "Demolished Thoughts" and you can stream it in it's entirety today on NPR.
Here's a track off the record called "Circulation," which Moore claims was played "while sitting in the middle seat in the front of a 1978 AMC Pacer with Sparks' Russell Mael driving, Ron Mael with his window closed (it was 103 degrees out) constantly fiddling with the side-view mirror. Beck was in the back holding a shotgun mic and recording the basic track, already pre-recorded, as it played through the Pacer's sick system, while I sang live the lyrics, trying to focus on the lust-rust blood scent of a city girl on a holy other coast."

Thurston Moore — "Circulation"