The Elusive Stephin Merritt To Release "Obscurities" Album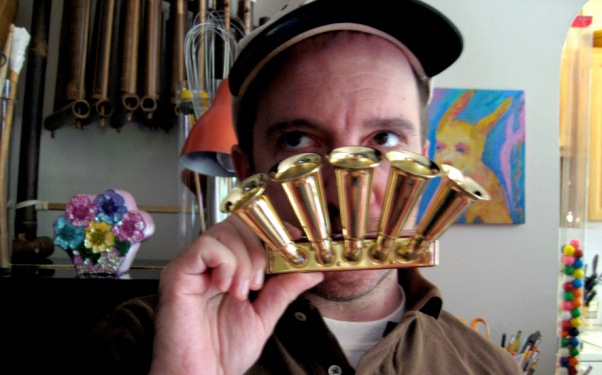 Posted by Brandon Kim on
Ukulele connoisseur and The Magnetic Fields mastermind, Stephin Merritt is releasing a collection of hard-to-find recordings dating back to before "69 Love Songs," the album that brought Merritt out of obscurity, before all the FOX news morning shows and endlessly awkward interviews.
Titled, "Obscurities" the album features five previously unreleased songs, 14 total, all recorded prior to "69 Love Songs." Three of the unreleased tracks come from an unfinished science fiction musical that Merritt began writing with Daniel Handler, aka Lemony Snicket, called "The Song From Venus." Also included are five songs from various 7″ vinyl singles by The Magnetic Fields, Merritt's side project the 6ths, a track from a rare K Records cassette-only release, and others.
Real "It was raining broken glass in the forgotten part of town" type stuff. "Obscurities" comes out on Merge Records August 23rd.
Here's the full track listing:
1. "Forever and a Day" (previously unreleased)
2. "Rats in the Garbage of the Western World" (The Magnetic Fields)
3. "I Don't Believe You" (The Magnetic Fields)
4. "Plant White Roses" (Buffalo Rome)
5. "Rot in the Sun" (the 6ths)
6. "The Sun and the Sea and the Sky" (previously unreleased)
7. "Yet Another Girl" (the 6ths)
8. "Scream (Till you Make the Scene)" (previously unreleased)
9. "The Song from Venus" (previously unreleased)
10. "Beach-A-Boop-Boop" (The Magnetic Fields)
11. "When I'm Not Looking, You're Not There" (The Magnetic Fields)
12. "Take Ecstasy with Me" (The Magnetic Fields)
13. "When You're Young and In Love" (previously unreleased)
14. "You Are Not My Mother and I Want to Go Home" (The Gothic Archies)
And if you missed it, read my rare interview with Merritt where we talk about Hawaiian music, his father, and the film "Strange Powers."