"South Park" Roasts EA Sports Over Use of College Athletes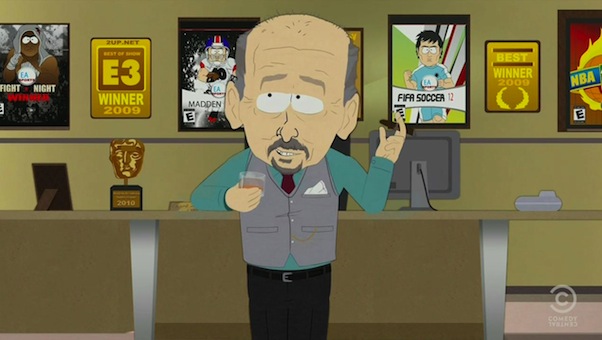 Posted by Evan Narcisse on
When it comes to modern-day satire, Matt Parker and Trey Stone wield the comedic equivalent of the Eye of Sauron. They skewer events, personalities and attitudes with a fearsome precision and, while it is a way to declare that the skewered entity has arrived, you generally don't want to be on the receiving end of their glare.
That's exactly where EA Sports found themselves last night. (This is actually round two of South Park vs. EA, as Parker, Stone and crew parodied EA's best-selling "Tiger Woods" games with a version that featured bloody fisticuffs between Tiger and his now ex-wife Elin Nordegren.) In the episode entitled "Crack Baby Athletic Association," Cartman and some of the other kids plot to start up a, um, very controversial sports league. Aside from the tragic nature of the athletes, there's the idea that Cartman doesn't even want to pay them.
To achieve this end, the loudmouthed pre-pubescent goes the experts in that field, namely, college sports programs and EA Sports. In a thinly veiled swipe at EA Sports president Peter Moore, the show trots out "Mr. Peters," a profane, blustery video game big shot. When the discussion of athlete compensation comes up, Mr. Peters says "F**k 'em!" The callousness refences real-life events, as EA's been embroiled in a suit brought by former NCAA athletes who felt they were owed a share of profits from various college sports games without their permission. Earlier this month, a federal judge found EA liable of no wrong-doing, as they were following licensing agreements laid out by the NCAA and the Collegiate Licensing Company. Liable or not, the lens is still an unpopular one to be viewed through.
Whether the "South Park" creators were carrying out a grudge or just found an easy real-world peg to hang the episode's plot on, EA and Peter Moore still get shredded in "Crack Baby Athletic Association." And, when the next installments of EA's higher learning sports titles come out, you better believe "student athletes" and "Mr. Peters" will be part of the conversation.