Sony Reveals Sci-Fi Western "Starhawk" for PS3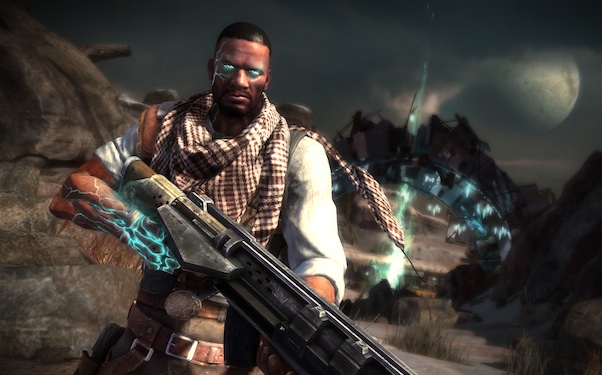 Posted by Evan Narcisse on
The two genres may look like they're lightyears apart but the Western's actually influenced scienc-fiction from the latter's earliest days. Star Trek famously began as a embryonic pitch for a "Wagon Train"-style show in space and the whole steampunk subgenre owes itself to anachronistic engineering advances happening before they were supposed to.
So, Sony Computer Entertainment's just-announced "Starhawk" stands in a long tradition of howdy, partner/warp drive entertainment. The PS3 manufacturer showed off the game to a crew of journalists in Austin last week at the city's famous Alamo Drafthouse theater. In addition to being home to the Lightbox Interactive development studio that's making the game, Austin's a city that celebrates the frontier spirit of the Old West, making it a perfect fit for "Starhawk."
The game takes place in a far-future reality where humanity's spread out to the stars. The push into space discovers new elemental resources. One such resource, a transdimensional force called rift energy, also goes by the name "blue gold." The hunt for blue gold created a frenzied social mania called the Rush, where everyone's trying to get rich off of the valuable element. But, working with rift energy is dangerous and prolonged exposure can cause human beings to mutate in freakish husks called Outcasts. Outcasts become horribly disfigured and worship the huge dimensional tears where rift energy flows from. Since outcasts hold blue gold as sacred, the human rift miners trying to lay claim to it come in constant conflict with the Outcasts, who scavenge technology and weaponry from their former human lives.
Lead character Emmett Graves is one such prospector, traveling to distant planets in search of blue gold with his tech-savvy partner Sidney Cutter. But a horrible accident exposes Graves to dangerous levels of rift energy, but instead of mutating, he lives in a tenuous state of near-explosion. Cutter builds a regulator that Graves wears to stabilize the blue gold coursing through his body. The game opens as Graves and Cutter take on a contract on a small moon named Dust. In the single-player section of "Starhawk"I played, Graves gets into a running gunfight with the Outcasts. You don't use cover in "Starhawk," and have stay constantly on the move in order to stay alive. Lightbox take a slightly different approach to enemy AI in the game, attaching the bad guys' awareness to an environmental radius. So, the Outcast roam throughout a territory and, if you start to fight on the periphery, they'll swarm to your location. It's different than path-based game design enemy movements are more predictable. It's tougher to prepare for a fight if you don't know exactly when it's going to happen.
The other key mechanic of "Starhawk" is the Build-&-Battle system. While players fight off scabs (the derisive name for Outcasts) At the end of the first skirmish of the level I played, I planted a blue gold extractor and secured an area. This gives you points to spend on battlefield assets. Before the next wave of Outcasts came, I got time to drop a tower that would spawn computer-controlled human partner characters who helped me fight off the mutates. You can also build pod bunkers that spawn weapons for you and your AI partners to use or towers that serve as launchpads for Hawks, the giant, tank-like mech suits that you can get in and fly around in. The AI seems pretty clever at this point: they'll jump into empty vehicles and head to objectives and will base their engagement of enemies on how you play. So, if you stay on the ground to fight the Outcast, they'll follow suit. Jump into a Hawk to rain death on your oppponents and they'll do the same. The combo of Build-&-Battle and the AI programming allows for a nice scalability of strategy. You can play at a bit of a remove, building assets to the point where you don't need to fire a bullet yourself and let your Rift Miner allies do all the work. Or you can get you hands dirty and let the AI follow your lead to provide back-up.
All these principles follow through to the multiplayer portions of "Starhawk,"too. Groups of players will face off as either Outcast or Miner, with each player able to build assets. But, each side shares a pool of points so that there needs to communication and management. During some of the session, my side had built too many vehicle garages and didn't have enough points to build a Hawk tower. The humans we were fought against didn't make the same mistake, building enough Hawk towers to trounce us soundly. The maps we played on seemed big enough to contain lots of action but not so sprawling as to feel desolate.
Lightbox makes no apologies as to their use of Western tropes in the making of "Starhawk." But, since they're making a big game full of reckless battles on a lawless frontier, the DNA fits, even if it is flying tanks you ride instead of horses. They're not talking much about the game's single-player storyline yet, preferring to leave the mystery of what the larger purpose of Graves' continued blue gold-infused existence will be. Where "Starhawk" feels most promising, though is in the fusion of styles and ideas it brings together. It's got the immediate action of a third-person run-and-gun shooter, the strategy of a tactics title and the methodical planning of a tower defense game. It looks gritty and shiny at the same time, too, making the most of the PS3's processing hardware. I can't say that "Starhawk" a surefire winner yet, but I like what I've seen so far to keep it on my radar moving forward.