Seattle Film Fest 2011: "The First Grader," Reviewed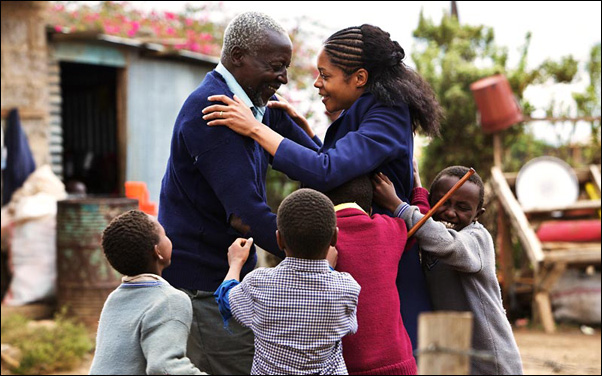 Posted by Stephen Saito on
The media is a double-edged sword in "The First Grader," a feel-good film that's surprisingly self-reflexive if one strays to think beyond the narrative director Justin Chadwick and writer Ann Peacock unfurl. Based on a true story, the film's main character Maruge (Oliver Musila Litondo) simply wants an education after spending many of his 84 years in captivity under British colonial rule and when the Kenyan government announces they'll offer free education to anyone who wants it, he naturally wants to start from scratch – in kindergarten, amongst the six and seven-year-olds who like him cannot read or write.
It's a great story, one that attracts attention from around the world when word leaks from this small bush community that Maruge is learning how to draw sixes properly and helping his younger classmates who can't. But all those human interest pieces add up and instead of the lionized image of Maruge that soon is plastered on billboards across the country, he and the courageous teacher/principal who helps him (Naomie Harris) are vilified within their village, suspected as having profited from his TV interviews and taking resources away from the children. In other words, things get complicated, as they do for "The First Grader" when its filmmakers, like all the reporters it depicts clamoring at the gates of the humble schoolhouse, try so hard to craft a heartwarming story that they risk missing the true one that's taking shape at its own pace.
Full of triumphant music cues and brutal flashbacks to Maruge's torture, "The First Grader" sees subtlety as a foreign concept, offering cinematic comfort food that's not nearly heavy-handed enough to derail it from accomplishing its tearjerking end game, but a bit too on the nose at times to be taken completely seriously. Why it should be is mostly due to the fine performances from Litondo and Harris, in particular, who forge a relaxed chemistry in the central relationship between a student and teacher. In the world Chadwick's created where nearly every other adult character might as well be twirling the end of a mustache as opponents of Maruge's education, they take advantage of having the two most fully fleshed out roles and give the film the grace notes it lacks in other areas.
Still, there's no denying that "The First Grader" has the capacity to be moving. Maruge's valiant quest to read so he can finally read an important letter he's kept long enough for the edges to be frayed screams of a concession being made for an uplifting narrative, but his ongoing struggle to stay out of the nation's neglected adult education system rings unfortunately true. When the film's climax arrives, it's not only Maruge's fate that's at stake, but also the film's as a fit secretary presumably in her thirties can't catch up with an 80-year-old man hobbling down a long hallway with a cane. Nevermind where he's going, but whether you believe the situation as it unfolds will hold a great deal of sway in if you believe "The First Grader" goes anywhere.
"The First Grader" is now open in limited release.