Sean Kirkpatrick Weighs the "Cost of a Soul"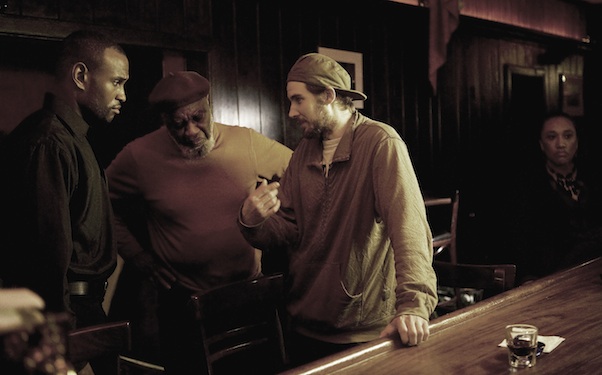 Posted by Matt Singer on
Independent filmmakers are always looking for their big break. Writer/director Sean Kirkpatrick found his, appropriately enough, in something called "The Big Break Contest." Launched last summer by Relativity Media and AMC Theatres, the contest was designed to give one worthy filmmaker a shot at national distribution. A panel of judges that included Relativity CEO Ryan Kavanaugh and actress Kate Bosworth picked Kirkpatrick's "Cost of a Soul," a dark story of Iraq war veterans lost in the drug trade in Kirkpatrick's hometown of Philadelphia, as their inaugural winner. Now the film's opening in 50 AMC Theatres across the country this Friday (you can find a full list of locations and showtimes here).
It's a move that could be one small step for a single indie filmmaker or, if the business model of movie theaters distributing smaller films to large audiences catches on, a giant leap for an entire industry. Kirkpatrick, a Penn State alumni making his feature directorial debut, says he understands the magnitude of the opportunity. "I feel an obligation to try to push this thing through," he told me, "not only because I want to further my career but because I feel like this is hope for all independent cinema. Here you have one of the biggest power players in the business reaching out and saying 'We want a good film. We don't care how much you made it for, we don't care what actors are in it. We want something that's good.'"
During our interview, Kirkpatrick told me about the experiences that inspired his screenplay, the hardest thing to find when you're making a microbudget indie in Philadelphia (hint: it rhymes with runny), and his experience as the test subject in this unique cinematic experiment.
You're from near Philadelphia originally?
I'm from just outside Philadelphia. A town called Norristown.
And how much of making the movie was the inspired by the desire to shoot in Philadelphia?
It all comes down to the desire to shoot in my hometown. In this film, the city is really a character. And the story evolved from the city and my experiences in it, particularly in North Philadelphia. When I was writing the screenplay, Philadelphia was the murder capital of the country. There were more drug-related homicides, and more bodies, than days of the year in 2007. And I guess my goal was to portray the lives of the people living in these neighborhoods with as much truth as possible.
When you say you know these neighborhoods, what's that mean? Did you live there? Work there?
Yeah, I used to work there. I had several jobs in North Philadelphia. One was I was a glorified garbage man; I worked for a junk removal service and drove a dump truck. I also set up surveillance systems in a lot of the drug neighborhoods. These were dangerous, dangerous places, so much so that I was required to get my license to carry, and I had to carry a concealed weapon.
Really?
Yeah. And we had to be out of the neighborhood by a certain time before it "awoke" and there were people on the streets because you're talking about essentially coming in and putting up a camera that's going to disrupt someone's livelihood. If you sell drugs, and I put a camera on the corner, you can't sell drugs anymore. So they didn't like me.
Right. I guess that's good research for a film like this though.
Yeah. It's really a culmination of a lot of experiences, but I don't want to make it seem like it's all bad in this area. The communities in these neighborhoods are amazing. You have a lot of great people living amidst all this violence; in war zones, essentially. And they have to raise their children in war zones and face the challenge of keeping their kids off the streets. I really wanted to make this movie for them.
When you're shooting this sort of movie in North Philadelphia, what's the hardest thing to find? Is it the actors? The cinematographer? The caterer? What was the toughest thing to find?
Money.
[laughs]
The toughest thing to find was money. There's so much untapped talent out there. When people see the movie they'll see there are these amazing unknown actors in the film. They're just mind-blowing; I think a lot of them are going to win awards someday. And ultimately it was mostly a Philadelphia cast and crew with a few actors from New York.
The biggest conflict we faced was finding money. We didn't have money for anything so we had to get creative every step of the way in order to make this film possible. We shot it on a $100,000 budget in eighteen days. And we're going into neighborhoods with a small but full cast and crew. You're talking about camera crew, a lot of logistics, and a lot of expensive equipment. These are some of the roughest neighborhoods in America and we couldn't afford to bring police escorts or security. And even if we could afford it, that can cause a lot of conflict in these neighborhoods when you start bringing police in.
What we did was build up community relations. We had a group of guys who were former… we'll just say they were former knuckleheads who've seen the error of their ways. Their goal now is to keep kids from making the same mistakes they did. These guys have a lot of respect in the neighborhood, everybody knows who they are, and they protected us. They kept us safe, they were on our sets they made sure nothing happened to us. We didn't have a single incident.
The film looks excellent. Not just for the budget either, it looks good period. What was the aesthetic you and your cinematographer wanted for the film?
Everything we looked at as research was film noir. I wanted a film noir, and my crew will tell you I'm very clear in my vision, so much that I can be anal at times. I got together with my director of photography [Chase Bowman] and all we watched were 1940s film noir. I don't think we watched anything in color. With digital technology and the RED camera we were able to create a hybrid between the color film of today and the values and contrast and the chiaroscuro that you get in those old beautiful film noirs.
We see film noir today for certain stylistic choices but a lot of people miss the big picture of what film noir was. Most of them were films about World War II veterans coming back from the war, coming back and dealing with the dangers of the streets and the city. And I can't think of a better place to set a film noir like that than my hometown and the streets of North Philly.
I thought the use of music in the film was really interesting too, particularly through the musician character DD, and the way that his music literally transports the viewer; when he starts playing, you start to show us images of the city. Do you have any sort of background in music?
I'm not a musician but I wish I was.
So you have that appreciation of people who do have that talent.
I have an amazing appreciation of everything from Beethoven, whose "Moonlight Sonata" is in the movie, to jazz and John Coltrane, who's probably my favorite. He was a huge inspiration for the music in the film, and he's actually from Philly.
I've read about this contest but tell me how you first heard about it.
My co-producer [Jonathan Risinger] — who was also my entire post-production team, did everything from editing to mixing — he went into an AMC one day. We had been on the festival tour and I don't want to say it had been demoralizing but we'd been struggling to get the film out. We hadn't been happy with any of the deals we had been offered. We're having amazing audience reactions all over the country and we'd come to distributors and they'd give us a bunch of reasons, without even watching the film, why they couldn't sell it.
So he goes into an AMC theater and sees this poster that says "Do you have a feature film?" And he thinks to himself, "I've got a great feature film!" So it was just blind luck and being at the right place at the right time. He called me and said "I want to submit the movie to this contest," and I said "Sure, let's do it." So we did and the rest is history.
Wow. So when you win the contest, did the studio or the theater demand any changes or is this the movie that you brought around to festivals?
This is the movie that I finished. It's incredible because I figured they would change something, because that always happens. And I nervously said to them "What are you going to change?" And they said, "Nothing, we love the movie." I guess really it reflects on the movie because in the distribution contract we signed they got final cut.
So they really could have changed things if they wanted to.
They could have. And I figured they would, just because they can. But they've been really great.
I'm in a special position right now that doesn't happen to first time directors. They've let me have creative control over everything from the selection of the movie poster to overseeing the 5.1 mix to overseeing the Technicolor prints, to everything. They could have easily just taken the movie, cut me out, and said "Thanks, have a nice day. Just show up to the premiere with a tie on."
Is this the first time they've done this sort of thing?

It is. It's the first time really anyone's done it.
I thought so. So is there any pressure because you're the first? Presumably if the movie does well you could open the doors to a lot of very independent filmmakers getting their movies distributed on a national scale this way.
Absolutely. There's a huge amount of pressure. We've looked through a lot of statistics and as far as we can tell this is the largest theatrical opening for an ultra low budget film ever. So it's a huge deal not only for these companies but it could potentially be a really big deal for the entire system as well.
So you've been touring with the film. Have you been back to Philly yet?
We have. We had the premiere in Philly and they couldn't even fit everyone into one screening so they had a double-header of "Cost of a Soul" and they packed two huge theaters.
Did you have any of the folks that hosted you in their neighborhood there?
We did.
What did they think of the movie?
Every time someone from North Philadelphia sees the movie they come up afterwards and hug me and say "This needed to get out there. This is what it's like." And it feels amazing to do them justice because at the end of the day it's their story. These are fictionalized characters, but it's their lives.