Schwarzen-Watch: The Sound of Sad Arnold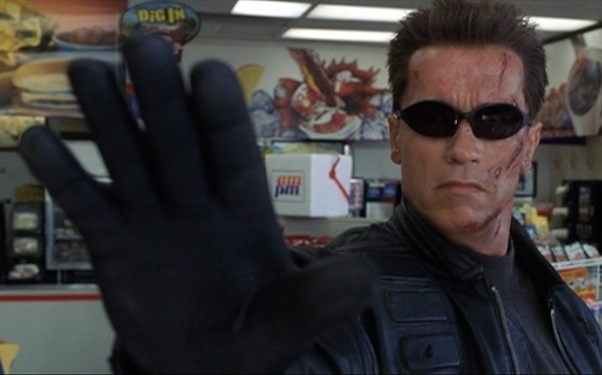 Posted by Matt Singer on
IFC.com's film writer, Matt Singer, is the biggest Arnold Schwarzenegger fan on the planet. He blogs any time any news about Schwarzenegger's return to acting, no matter how flimsy or improbable, hits the Internet.
So many people keep sending me this link, I figured I better Schwarzen-Watch it even though, strictly speaking, it doesn't fall under this column's purview. It is SadArnold.com, a new twist on the old Internet meme of Schwarzenegger soundboards and prank phone calls.
Sad Arnold describes itself thusly: "if Arnold Schwarzenegger's most famous characters were clinically depressed, this is what they would sound like." Embedded therein are 38 famous Arnold lines and sound effects, everything from "It's not a tumor!" from "Kindergarten Cop" to "What killed the dinosaurs? The ice age!" from "Batman and Robin." But instead of the original audio recordings, they're all read by a Schwarzenegger imitator who sounds like he forgot to take his Cymbalta. Gone is the defiant Douglas Quaid of "Total Recall;" now when he tells Sharon Stone "Consider that a divorce," it's not because he shot her in the head and needed a cool one liner; it's because they've actually gone through a protracted divorce which has drained him of both his financial resources and the will to live.
Websites like Sad Arnold are just another indication of the Schwarzenegger's continued influence on popular culture. I see the way other people write about my beloved Governator these days; he's old, he's washed up, he's a joke. But Schwarzenegger was in on the joke from the very beginning of his career (okay, maybe not the very beginning; have you seen "Hercules in New York?"). Here is a 63 year old who hasn't made a movie in eight years and he's got more pop culture currency on the Internet than many contemporary movie stars. One reason behind his enduring popularity is that Schwarzenegger, despite his obvious limitations as an actor, was never afraid to put himself out on a limb and look a little bit silly. What many of the action stars who've tried to replace him fail to realize is that it's not simply about looking cool; it's about looking like you're having fun while you're doing it. Schwarzenegger made it look fun to be an emotionless killer robot. So maybe he wasn't quite as bad an actor as everyone said.
So go enjoy Sad Arnold and put… the cookie… down.