Schwarzen-Watch: Arnold's Paternity Scandal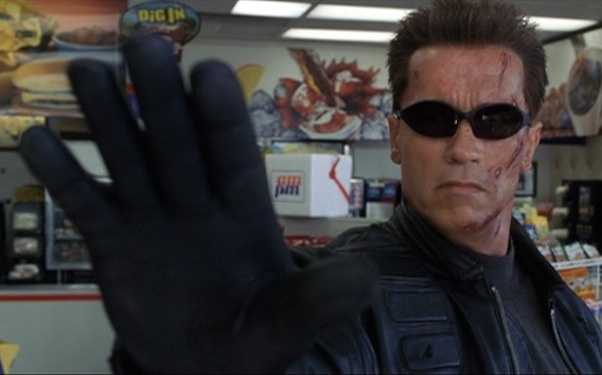 Posted by Matt Singer on
IFC.com's film writer, Matt Singer, is the biggest Arnold Schwarzenegger fan on the planet. He blogs any time any news about Schwarzenegger's return to acting, no matter how flimsy or improbable, hits the Internet.
Suddenly the famous line from "Kindergarten Cop" — "Who is your daddy, and what does he do?" — is ultra-poignant.
The Los Angeles Times reports the latest wrinkle in the sordid saga of Arnold Schwarzenegger and Maria Shriver's separation: that Schwarzenegger fathered a child with a married woman who worked for the couple's family for twenty years prior to his election as Governor of California back in 2003. Schwarzenegger's statement to The Times:
"After leaving the governor's office I told my wife about this event, which occurred over a decade ago… I understand and deserve the feelings of anger and disappointment among my friends and family. There are no excuses and I take full responsibility for the hurt I have caused. I have apologized to Maria, my children and my family. I am truly sorry."
As I wrote when I first covered Schwarzenegger and Shriver's separation, this is not really the sort of thing I like writing about. But (as I wrote in that same piece) Schwarzenegger and Shriver's relationship is so intertwined with his career, and informs so many choices he made in Hollywood, that this stuff has cinematic ramifications. I don't care about the gossip, I care about the movies.
And it will be very interesting to see how this latest revelation affects the projects Schwarzenegger has already announced as part of his return to filmmaking, most notably "The Governator," his cartoon series with Marvel Comics' Stan Lee. The show was originally pitched as superheroic riff on Schwarzenegger's real life; according to quotes from Lee in Entertainment Weekly, "The Governator" would include Shriver and Schwarzenegger's children as characters. That seems utterly impossible now.
The initial trailer for the cartoon was bright and poppy, which feels inappropriate too. Shouldn't The Governator be more of a dark and brooding Batman-esque figure now? His family has moved out, he's living alone in this giant Brentwood mansion, waging a one man war on crime with no one around but his faithful buddy James Cameron around to keep him company. The whole project will almost certainly need to be reconceived from scratch, if it ever happens at all.
This news also invites new interpretations of many of Schwarzenegger's past films. I joked about "Kindergarten Cop," but there's a movie that's entirely about a man becoming a dad to a fatherless child, a theme that Schwarzenegger repeated in "Terminator 2" and "Last Action Hero" and "Collateral Damage." He also played emotionally screwed-up fathers in "True Lies" and "Jingle All the Way." And rethinking "Junior" in this new context is making my brain throb.
The other fundamental element of the second phase of Schwarzenegger's career inaugurated by his marriage to Shriver and the birth of his kids (more on that here) was the role of deceit and deception in marriage. In "Raw Deal," made the same year Schwarzenegger married Shriver, he plays a man who fakes his own death so he can sneak away from his wife to go undercover in the Mafia. In "Total Recall," Schwarzenegger's character's wife may or may not be a secret agent placed by his enemies to spy on him and ensure he doesn't remember his real identity. In "The 6th Day" there are two Arnolds — clones — and the existence of the second one is kept secret from his wife and family.
More and more, "True Lies" looks like the Rosetta Stone text of Schwarzenegger's entire career. He plays a husband who keeps his life as a superspy secret from his wife (Jamie Lee Curtis) and daughter (Eliza Dushku). On its surface, the film is a big budget action picture and a romantic comedy, but it also asks deeper questions about what it means to be faithful in a relationship and it also features some especially interesting material about Schwarzenegger's character spying on his wife after he begins to suspect she is having an affair (coughPROJECTINGcough). "True Lies"'s simple, happy ending — secrets revealed, family reunited and strengthened — now feels ironic and wistful.
There are a lot of details we don't know about this case that could impact the readings of these movies, particularly when this affair took place and when the anonymous child was born. But this whole phase of this career, which I've always attributed to Schwarzenegger's marriage to Shriver and her influence in selecting projects, might need to be totally reconsidered.