Schwarzen-Watch: Arnold Plans to "Cry Macho"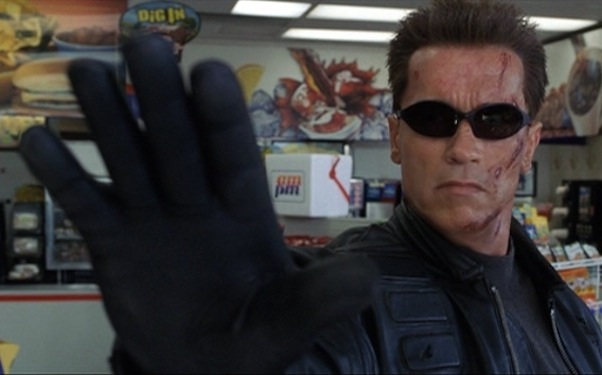 Posted by Matt Singer on
IFC.com's film writer, Matt Singer, is the biggest Arnold Schwarzenegger fan on the planet. He blogs any time any news about Schwarzenegger's return to acting, no matter how flimsy or improbable, hits the Internet.
Arnold Schwarzenegger may not be a robot, but he's working like a machine. If you're a regular reader of Schwarzen-Watch, you already know about his new cartoon series "The Governator" and his attempts to get a fifth "Terminator" off the ground. Last night, The Hollywood Reporter reported about a third project, a starring vehicle that they say "will mark his return to the big screen." It's entitled "Cry Macho" based on a 1975 novel by N. Richard Nash about "a down-on-his-luck horse trainer who is hired to kidnap a 9-year-old boy." From their report:
"Schwarzenegger, 63, will play Mike, a once well-regarded horse trainer whose wife and son have died. His former boss makes him an over he can't refuse: $400,000 to kidnap the boss' trust fund son, who is living with the man's ex-wife in Mexico. But when Mike locates the boy, a real troublemaker, the ex-wife doesn't want the kid. But as Mike and the boy head back to the states, with the Federales are on their trail, they develop a father-son bond of their own."
Mmmm, that dependable action movie staple, the Federales. I look forward to the terrible puns Arnold will make about their name while punching them in the face.
Obviously, I'm going from the barest of bare bones plot synopses here, but it looks like "Cry Macho" shares some strong connections with classic Schwarzenegger material. In particular, the notion of Arnold becoming an adopted father figure to a child was a major theme during the second phase of his career when he moved away from more violent, adult-oriented action films like "Conan" and "Commando" and began to cater to a younger, wider audience. Schwarzenegger movies from "Kindergarten Cop" to "Terminator 2" to "Last Action Hero" all involve the Governator forming a surrogate family with a young, fatherless boy. Arnold's older now, and the kid he'd be sorta-adopting would be older as well, but it doesn't surprise me that this idea still holds some cache for him. "Last Action Hero" notwithstanding, he had enormous success with that model.
And, of course, the whole idea of being super macho and crying, has Schwarzen-resonances as well. Don't forget the last line the Terminator utters to John Connor in "T2" just before — SPOILER ALERT! — he's lowered to his demise in a vat of molten steel: "I know now why you cry." And there was a real bittersweet quality to all of the movies in the most recent phase of Schwarzenegger's film career. "End of Days" "Terminator 3" and "Collateral Damage" all involve his characters' deaths or failures. The broad brush description from THR actually sounds like a late-period Arnold approach to mid-period Arnold subject matter.
And no, I don't think I've overthought this and yes, I do think "Cry Macho" is a great title.