Schwarzen-Watch: All Arnold Projects on Hold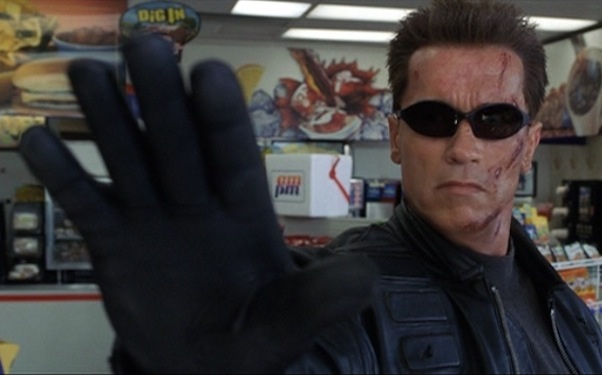 Posted by Matt Singer on
IFC.com's film writer, Matt Singer, is the biggest Arnold Schwarzenegger fan on the planet. He blogs any time any news about Schwarzenegger's return to acting, no matter how flimsy or improbable, hits the Internet.
It's been a busy week here at Schwarzen-Watch. But I have a feeling this could be this column's last installment for a while. Because, like the T-800 in that convenience store, Schwarzenegger's put his hand up, and now he's called a halt to all of his projects.
With the continuing scandal around his love child with his family's longtime housekeeper, it's become a less-than-ideal time to relaunch a movie career. That means no "Cry Macho," no "Terminator 5," and definitely no "The Governator" for the foreseeable future. Here's his representation's official statement, from Entertainment Weekly:
"At the request of Arnold Schwarzenegger, we asked Creative Artists Agency to inform all his motion picture projects currently underway or being negotiated to stop planning until further notice… Governor Schwarzenegger is focusing on personal matters and is not willing to commit to any production schedules or timelines. This includes 'Cry Macho,' 'The Terminator' franchise and other projects under consideration. We will resume discussions when Governor Schwarzenegger decides."
To me, this is just further validation of all my theories about his career. I've always argued in the face of skeptics that Schwarzenegger is a personal filmmaker. His movie look like violent killfests — any they are! — but they're also violent killfests with a deep emotional connection to the guy who was making them. If, as some argue, Schwarzenegger can't act and he's always playing himself, then basically every single movie he's made has revealed another facet of his personality. And I think he was going to start doing that all over again with his new projects. But now the parallels between his real life and his cinematic life which were previously buried too deep for most people to notice are front and center for all to see.
Consider "Cry Macho," which was going to be about a man who becomes a surrogate father to a kid he's been hired to kidnap. "The Governator" would have turned Schwarzenegger, playing a cartoon version of himself, into a literal superhero-by-night, a veritable rebuke of the aging process that the actor was repeatedly exploring in his last batch of movies before he went to Hollywood. And of course every "Terminator" movie represents something to Schwarzenegger: the first, his power; the second, his growing sense of familial responsibility; his third, his fear of failure, and the chance that he might screw something up and basically ruin his entire world (foreshadowing!).
This won't be the end of Schwarzenegger; if Mel Gibson can get a second (and a third, and a fourth) chance, so can Arnold. Just don't hold your breath for his next movie (or children's cartoon show… yeah, maybe that was just a bad idea in the first place). When he finally returns, will he stick with such nakedly personal projects? Or will his violent killfests finally become the mindless exercises they've always been taken for? Regardless, when it happens, I'll be around.
Wait, I mean back! I'll be back. Duh.