Rocket Scientist Makes Breakthrough In 3D Audio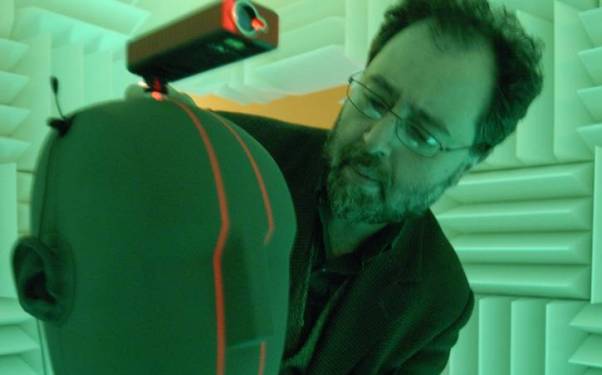 Posted by Brandon Kim on
Edgar Choueiri's day job is engineering work on plasma rockets for spacecraft, something that was science fiction just 20 years ago. As Princeton University's Director of Electric Propulsion and Plasma Dynamics Laboratory, he toils in a propulsion lab on engine technology destined for NASA (and the Russian space program), but after hours he's been making breakthroughs in 3D audio — first inspired by wanting to hear Bach reproduced perfectly through speakers. He's developed a way to truly render sound in three dimensions, samples of which you can hear below.
Best of all, Choueiri has achieved this through the use of a digital filter that can work on any stereo recording, played through any pair of speakers — even the ones on your computer. Though, you will obviously get better results with better speakers. Tinny speakers, are tinny speakers. Listening to the broadcast, I was mildly impressed by the bird and water sounds, but when they played "Money" by Pink Floyd, the depth was incredibly apparent. Music never sounded so alive on the eight year old computer speakers I was listening to it on.
Hear for yourself, listen to the full broadcast, "Adventures in 3D Sound," on Studio 360:

[Head to about 5:30 for the water and birds, and 6:50 if you want to hear the Pink Floyd bit.]
So what, don't we already have surround sound, you ask? Choueiri explains that surround sound just envelops you in sound with lots of hardware, it doesn't attempt to "reconstruct a 3D audio image," or true natural sound. His breakthrough is with software, using an algorithm that makes stereo playback so lifelike, it simulates actually being there — whether that's a fly buzzing around your head in 360 degrees or the reproduction of a Bach symphony so real, you can point out the direction in the room where the viola player would be sitting. Next stop for this technology: Hollywood.
Check out the video "The Science Behind 3D Sound" on Studio 360 for an in depth look at the technology. And here's a 3D Audio Demonstration featuring water lapping on a shore so real you may have to jump in it.

3D Audio Demonstration for Speakers (not headphones).
For best results, sit in front of your computer speakers so that your ears are equidistant from the left and right speakers. You may also want to fix yourself an umbrella drink. Note: Apple MacBooks suffer from an internal audio design flaw that may prevent you from experiencing the effect of Choueiri's 3D Sound.