Richard Ayoade on Coming of Age With "Submarine" and His Take on "Die Hard 5"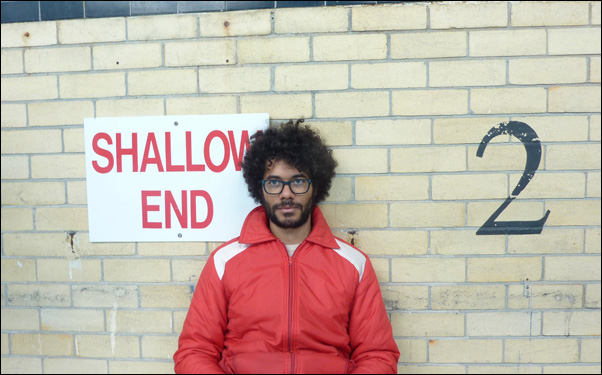 Posted by Stephen Saito on
This interview was originally published during the 2010 Toronto Film Festival.
"I have a very sarcastic sounding, insincere voice," joked Richard Ayoade during his introduction to "Submarine," an adaptation of Joe Dunthorne's coming-of-age novel about Oliver Tate (Craig Roberts), a 15-year-old consumed with looking up words like "atavistic" in the dictionary, saving his parents (Sally Hawkins and Noah Taylor) from being split up by a mulleted motivational speaker (Paddy Considine), and romancing his humble classmate Jordana Bevan (Yasmin Paige).
Certainly, Ayoade can be self-effacing, as one might know from his turn as a regular on Britcoms auch as "The IT Crowd," but as a first-time director, he is never anything less than genuine, even while wringing laughs from the most embarrassing of experiences from growing up. His directorial debut will surely draw comparisons to Wes Anderson and Hal Ashby for its bittersweet take on adolescence told with style to spare, but "Submarine" is a wholly original creation that I must admit I couldn't hear all the dialogue for since raucous laughter was constantly trampling over the lines at the film's premiere at the Toronto Film Festival.
Shortly before Ayoade and his "Submarine" crew (including Ben Stiller, an executive producer) closed a deal with the Weinstein Company to bring the film to audiences everywhere soon enough, he sat down to discuss making the jump to making features from directing videos for the likes of Vampire Weekend and the Arctic Monkeys (frontman Alex Turner returns the favor with an original soundtrack for the film), the unusual influences for his teenage tale, and the sequel he'd like to tackle next.
How did this become your first feature?
It was, in many respects, random in that I had done a music video for Warp [the film's production company] and somebody who works at Warp went to college with Joe Dunthorne, who had written the novel, so they sent me it before it had come out. I wasn't aware of the book through being shopped or anything and they thought I might be worth considering to adapt it and I just decided to try because I really liked the book and didn't necessarily think it was translatable very readily and it's very internal, it's all in the first person.
There were a number of things that seemed to indicate you shouldn't try to adapt it, but I've always liked that subject area, partly because it feels peculiarly American, I guess. A show like "Dawson's Creek" is unthinkable in England or "My So-Called Life" or "The Wonder Years" or anything like that, or "The Graduate" or those John Hughes films. There's no real genre of that in England of what you'd call the teen genre. It just doesn't exist. So I've always been very interested in that.
I imagine that's something you both wanted to embrace for particular story beats and overcome to make something original.
The thing you don't necessarily think about more in this than potentially doing any genre of film, whether they're the well-mined tropes of the horror film or a thriller or all of those types of films, is that they have their own clichés and rules and in some sense, it's inescapable. You just hope that the characters in it feel real and right and it felt from the novel, there's something different about the character of Oliver Tate that was different to characters I've seen in other things or read about in other books, so I guess that gave me the confidence to try and attempt it.
You mentioned the other night that many of the things in Oliver's room were similar to knickknacks you had as a kid — how much of yourself did you want in the film?
I suppose you end up investing yourself into it in some regards because that's your way of attacking it, in the same way that I think all good acting performances have something of the person playing them brought to it. Otherwise, it becomes a form of mimicry that doesn't have any depth to it. So inevitably, you bring things that have meaning to you or you feel will inform it in some way or things that you feel are correct. I like in "The Graduate" how Dustin Hoffman is said to give Mike Nichols' cough and Mike Nichols did that in meetings. If you put personal things into what you do, you feel that it's authentic or they have some form of meaning to you.
Since you came up as a comedian, that's such an improv-heavy medium and you're obviously a film geek and this film has such precision. Did those two things collide on this film?
I think it's both in a way that I suppose, for example, a lot of comedians write through improvisation and that you end up boiling it down and you keep the good bits. I think improvisation for its own sake isn't particularly interesting.
There's a tension when someone's improvising in the room because there's a one-offness to it, but as soon as it's captured, it can seem incredibly baggy and self-indulgent and meandering, so you hope to have the illusion of improvisation without the long passages of rubbish that can come out of it.
You mentioned "The Graduate," but were there other films that got you in the mood to make this one?
Oddly enough, the films that felt most directly influential on it were "Taxi Driver" and "Badlands," not because of the subject matter particularly, but the dispassionate voiceover and they're both having central characters who have an idea of their own legacy and even though clearly the subject matter of this is much less cataclysmic or violent or brooding or mythic than those films, there's something about having a character with a stated view of reality juxtaposed with the view of reality the audience sees.
Like those films, "Submarine" also strongly invests in its visuals. What was it like expanding your style to a feature-length film?
Well, those films are incredible and obviously Terrence Malick and Martin Scorsese are just the best. I suppose in the shooting of it, the director of photography [Erik Wilson] and I both love ["Days of Heaven" cinematographer] Néstor Almendros and wanted to shoot with natural light and wanted to partly just so that people weren't waiting for scenes to be lit. It's just awful, I think, for actors if they have to just wait for a very long time and it just allows you to have more spontaneity and to film more and there's something about natural light that's very pleasing. Martin Scorsese likes to move the camera a lot and I like that in films.
In regards to doing shorter things and then moving to this, the main part of it is writing a script and just hoping that you have a story where the audience is interested enough in following that character for that length of time. One of the things about having a novel — even though you can't directly translate it, and often I think films from novels are very bad or you can't follow them – is that there's something substantive there to begin with. It's not simply a matter of compression, but your main worry isn't whether you can fill time, your worry is whether you can be distilled enough not to repeat the same thing again and again or not make it too long and ungoverned.
How did Ben Stiller get involved? Did you send him the script?
I don't know. I didn't personally send it to him. I'm not exactly sure how he got it. I think he maybe liked "Garth Marenghi," this TV show I was involved with, so maybe he was interested to take a look.
In terms of coming along and presenting it, I think he's the person who downplays his involvement the most in that for him, he said that [his production company Red Hour Films] just wanted to do whatever they could to help find an audience for it and be supportive really. They're incredibly kind in that regard and weren't overbearing. But in terms of the development of the film, that was through Film4 and they've been great.
How was the premiere for you as a whole?
It was very frightening and overwhelming really and it seems very inappropriate to massively enjoy those things because then you'd be insane. It would be so strange if what you enjoyed most was assembling 700 people and watching something you'd done with them, the idea of that is so bizarre. It can't be something you would seek out. It ended up happening that you don't really think about it at all when you're making it. You somehow don't imagine that anyone other than maybe your friends might see it. That's how I've always imagined things and in many cases, that has been the case. It's generally just friends who've seen things I've done.
Are you working on anything now?
"Die Hard 5," I'm in early talks to do that. [smiles] I'm going to just try to bring some of the feeling of this to that.
I've always wanted to see the younger version of John McClane.
Yeah, there's going to be a lot more stuttering and he's going to have self-esteem issues in this one. [laughs]
"Submarine" opens in limited release on June 3rd.