Premiere: Times New Viking's "Ever Falling in Love"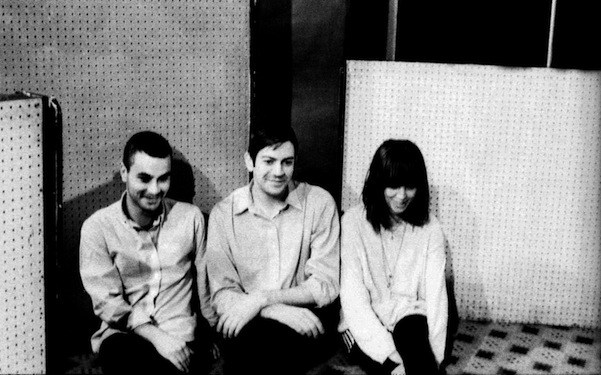 Posted by Grayson Currin on
When people used to discuss Ohio trio Times New Viking, you could have assumed that they were talking about a harsh noise project, not a group that wrote pop songs and then buried them in static. Indeed, for the bulk of Times New Viking's career, the critical emphasis has been more on how the group sounded–loud, distorted, crackling–than how they wrote or sang or played.
Dancer Equired–the fifth Times New Viking album and the best, too–finally pushes back the brambles and puts the proper spotlight on the tunes themselves. This isn't a polished pop record by any stretch, but what we find is a group that writes smart little songs and plays them with a reassuring indifference to perfection. "Ever Falling in Love," a subversively droopy duet between Beth Murphy and Adam Elliott, pairs the monologues of two confused lovers who eventually find one another. The video, directed by Brandon Reichard, is a futuristic, quixotically redemptive portrayal of that idea, not that we want to offer any spoilers just yet.
We caught up with drummer and singer Elliott, on tour with the band in Europe, to talk about Dancer Equired, "Ever Falling in Love" (download here) and recent new looks for the noise scene.
The big change on Dancer Equired, obviously, is that Times New Viking went into a proper studio. When did you decide that was the next move?
We've always been curious about it, and when we came home from the last tour, we wanted to make a record right away. But all of our mics were broken, and we didn't know where our four-track was. So our friend ended up running this studio, reworking this old analog studio and fixing it up. He was a local guy who has been with us since day one. We figured it would be a good little change to see what it would sound like without the layer of fuzz.
Did that approach change how you three worked these songs out as a band?
It was the same songwriting process, but we actually demoed out the songs a little bit before we actually went into the studio. This album was recorded more live than our other records because, with our other records, we'd add a guitar, go to the bar, come back and add another guitar. We had to worry about trimming stuff down and problem-solving. On this record, we could just play it live, and we didn't have to worry about the struggle of doing overdubs and stuff like that. We pretty much recorded this record for three days straight, in 15-hour sessions. We didn't play the song more than once or twice in the studio. It wasn't like, "That wasn't a good take, guys."
It seems like that could be an anxious move, sort of giving up on the way people expect you to sound.
When we were recording and listening back the first day, we got a little scared, but we said, "Let's go for it." I think we've gotten a little older and have played together a lot more, so we're better in tune with each other. I don't think you'd call it a mature record, but we were trying to be a little less brash and loud.
In the past few years, you've definitely had some predecessors make this move, like with Magik Markers shifting from noise releases to more song-oriented material. And there's a lot of that in New Zealand's indie rock history, too.
We came from the noise scene. That was the scene we came from in Columbus, but we were always the band that played pop songs. We were going a little noiser, and then a lot of those bands, like Magik Markers, started to craft pop songs. I think we crossed paths a little bit.
We've been seeing a lot of that–C. Spencer Yeh just put out a pop record, Dom Fernow from Prurient is in Cold Cave.
I think so, too. Spencer just put out a pop 7″. The noise scene, at least how I see it, was the closest thing to punk that we had, because punk is so … whatever. Kids were showing up, and like nine bands could play. The freeness of it was amazing. All the bands could sound totally different, but we were all there together, trying to push boundaries or trying to mess stuff up a little bit. Deep down, those bands still listen to The Mamas & the Papas. With the Internet, more people are aware of these bands, and I think it's challenging for people from the noise scene to try to write songs. It's the challenge that people are doing it for, trying to find some beauty in something ugly.
Do you think this band has gotten better at writing songs?
We've all figured out what we're better out when we come together. These songs are a little more fleshed out. For some of them, we just had an idea and wrote it in the studio, but I think our songwriting has definitely developed. Our singing ability definitely has not. We can always rely on our ineptitude a little bit.
Does Times New Viking ever consider re-working takes to make the vocals perfect?
We try to sing our best, but we're not afraid to sing a little bit out of tune. I've always seen it like it's better to sing it a little bit out of tune so that, when people sing it at home, they don't feel so bad if they can't sing.
When's the first time you remember working on the song "Ever Falling in Love"?
That was the one song on the record that felt different than the rest of the songs. It was a little slower, and Beth [Murphy] played guitar on it. It was one of the first songs that is a story song for us. It worked out because Beth and I sing different parts on the song. She wrote lyrics, and I wrote lyrics separately. Somehow, they really worked together.
The story of the song is the idea that people meet, they hook up, and then, the next day, you have to deal with the girl waking up and thinking the guy has left. But the guy comes back for her, and then they just say, "Fuck it," and go off together. For the video, we actually had a movie idea from a long time ago, so then we thought maybe we could work that into the video. The video is kind of like the song, except they live in a land where there are no images because the king is blind and took all the images. Then this guy and this girl meet in a bar, and then the next day he leaves and goes into this hall of images where all the images in the world are. He steals them all and brings them back.
How does the video concept work with that song conceit?
It works good, because there are two characters in it. And in the song, Beth is singing, and I'm singing. I sing the boy character, and she sings the girl character. My lyrics and voice are the actual story, and then her lyrics are kind of what the girl is thinking. We knew we needed a video for that song, and we knew that, after our last video, we wanted to step it up even more and try to do the stop-motion idea. We tried to make a little French New Wave stop-motion. Breathless was kind of an inspiration for the video.
How was "Ever Falling in Love" written?
We all wrote it together. Jared [Phillips] wrote the guitar riff. We arranged it together, and then Beth wrote her lyrics, and I wrote mine. For all of our songs, we pretty much write our own part. We call it 300% creative, where everyone has 100%. If someone comes in and plays something, we just say yes to it. If any of us had giant egos, it might be a problem, but it's what we wanted to do from day one. It's the idea of group collaboration, and all our ideas count just the same. All of our ideas coming together means more than just one person's ideas. We're still working at a quicker rate than we ever have, so it's obviously working for us. It definitely probably doesn't work for a lot of bands.
Dancer Equired is your first album for Merge Records. It must feel pretty good to bounce from one of the best and biggest indie labels in America, Matador, to another, Merge, especially after starting on the legendary Siltbreeze.
Yeah, I'm pretty blown away by it, too. We were under contract, and then something came about where we had to write a new contract. It's pretty amazing that we've been on Siltbreeze, Matador and now Merge. That's pretty lucky. The great thing about Merge is that they didn't sign up for our band because they saw money signs in their eyes. They really like our band, our record and what we do. They didn't have to sell us as a new band, either.
Do you ever get the feeling that, especially with this album, Times New Viking are a new band for a lot of people?
Yeah, and I really like that idea. We come from such a small community that we never thought a lot of people would ever hear us. We'd figured that everyone who is going to hear us would have already heard us. With our videos getting out a little more, and being on Merge, and with NPR streaming our record, people are still discovering us.
Are people singing along to these new songs more, now that they can hear the words better?
I'm not sure yet. I know that people are definitely requesting some songs. The other night, our record hadn't even come out yet, and this guy kept requesting songs. I kept talking to him, like, "You shouldn't have heard that song." He had obviously illegally downloaded it, which was funny. But I think people can definitely understand these words a little better, which is good, because I hope it means people can finally start talking about something besides the recording quality. All of our other records, even though there are songs and a lot of ideas on them, all they talk about for the entire review is how bad it sounds.
Was that a bummer for the band, to always be talked about in terms of sound versus songs?
It got really depressing because there were other bands who had the same sort of sound quality, and reviews never talked about that or mentioned it in passing. We feel like our records' production is different than other records, but we feel like we've progressed in how we approach records. The four different records sound four different ways, even if they're all lo-fi. We did put time into production, and we obviously wanted it to sound like that. People just talk about how bad it sounds as opposed to why it sounds like that. We were hoping on this one, that would all be stripped away. But now everyone just wants to talk about how we went into a studio.