Premiere: Nader Sadek's oil-loving vision of primitive man in "Sulffer"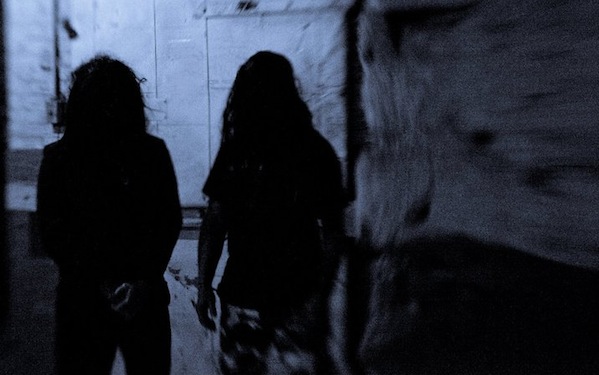 Posted by Grayson Currin on
In the Flesh, the new album by the Egyptian-born, New York-based artist Nader Sadek, includes members of Cattle Decapitation, Mayhem, Morbid Angel, Cryptopsy and Behold…the Arctopus; it is being released by Season of Mist, one of the most respected metal labels in the world.
You might find it surprising, then, that not only is this Sadek's debut, but also that he doesn't consider himself to be a musician. Rather, Sadek is an accomplished visual artist who has worked with metal titans like Sunn O))) and Mayhem and built highly lauded multimedia exhibitions out of metal iconography and his strange history as an extreme music fan in Egypt. In the Flesh, like Sadek's visual art, clings fast to concept, meaning that his ideas are the fuel behind the top-notch crew of collaborators at work here. As a matter of fact, In the Flesh explores man's attachment to power and control through the prism of petroleum and in an intense vortex of death metal gilded with grindcore, black metal and noise.
Above, we, along with NPR, present the premiere of "Sulffer," one of the videos Sadek intends to make for each song on the album. The video for "Sulffer" was funded, in part, by Northern Manhattan arts Alliance, JPMorgan Chase Foundation and the Upper Manhattan Empowerment Zone. To hear the entire album, out this week, see Decibel.
This is your first album, but already you've gotten a lot of attention from outlets like The Village Voice and Decibel and NPR. Has that surprised you?
I didn't expect IFC or NPR when I started this. I really wanted to be able to get multiple audiences, because I'm a fan of lots of different things. I wanted that to translate to my work but still make it as metal as possible, which is probably what I like the most. I created it to hopefully transcend metal and get into different venues and audiences.
Tell me about the development of this album and how you see your role in this album.
I'm continuing a theme I've used since my very first exhibition in 2004 in Egypt. That project continues and morphed into something else. That's how my work goes usually, just morphing and a continuation of itself, but sometimes I reinterpret an idea and it becomes a new artwork. So I did this project with Steve Tucker in 2006, and that project was about power and how that relates to immortality. It was also attached to this theme of petroleum because petroleum could mean power, but also a kind of immortality. It's something that's actually dead–formed of living creatures, vegetation that has been cooking inside the earth for a very long time. We have found a way to exhume it and create energy out of it. It's energy from death, and I took the artistic liberty to make it about immortality.
That project was about the perception of power. It got me thinking about this experience I had in Egypt. I had the metal appearance of super long hair and a goatee, which intimidated local Egypt. I was totally alienated, and when I was walking down the street, I was kind of scary. When I came to New York, I wanted to find a way to mirror that. Heavy metal is not that scary; it's an accepted culture here. It's not something people are that afraid of. In Egypt, it really translates into Satan worship or something truly evil. What I wanted to do here was get the same reaction from locals in New York. So I dressed up as an Niqab-clab woman from the Middle East and walked down the street. In Times Square, I got more looks. People were completely intimidated. It was kind of hard to walk around. It was completely uncomfortable, and it created this potential for the project. I ended up getting in touch with Steve and some other Middle Eastern musicians, and we made this song that was kind of like a noise track. It was a death metal song with a Middle Eastern song.
In my sculpture work, I got more into flesh forms, like these mechanical tools that I render to look like flesh. That's part of the petroleum dependence thing that I've always been working with. I made several sculptures and I figured, "OK, maybe it would be interesting to express this idea or theme through music." If I did that, then death metal was definitely a pretty good choice because it already has a lot of the sound in it that, to me, resembles engines. It resembles a lot of machinery–the double-bass and really fast guitars. There's a very engine-like sound to it, and I was pretty intrigued by that. I had this idea. How can I develop it? Who can the players be? Who could make that sound the way I wanted it because, yeah, all death metal has that sound, but like my sculptures that are made to look like flesh, I wanted to complement that in the music? There had to be a new element in the death metal project.
Already in that song that we had done previously, there's one very specific riff that I thought would sound really great if it had someone with a black metal sensibility to play this riff. I felt it had a very black metal melody. I'm pretty sure Steve was not really into black metal at the time, but that became interesting, too. When it came to finding drums, we had to have a very intense attack that also resembled intense machinery that's just working nonstop. A lot of little things that you only notice if you listen to it very hard.
How did the band develop? And did you write any of the songs?
Then, I proposed the idea to the band. I went to each one of them and approached them about the whole petroleum-dependence idea. So Steve liked the idea, and I asked him to compose a song. I told him that I really wanted him to think about an engine when he was writing. At this point, he had written two more songs, so now we had three because I thought we could still use the old songs that we did together. I got excited about the idea of actually writing music, which I sort of did, accidentally. I had no intention of actually doing that. I didn't think that musically I was going to be involved at all. I'm not a musician by any stretch of the imagination. I'm not interested in taking any credit like that. I was playing around with GarageBand. I hang out with a lot of musicians and a lot of them are engineers and I get to watch them play with cool tools a lot. I'm a very curious person.
I ended up writing a song, and I just like mapping out the melodies. I hummed a melody that I thought was appropriate and I tried to find the notes on the keyboard, and I wrote a song like that. Another song I wrote on guitar. One day I decided to play around with the guitar and I ended up trying to figure out some sound. The other song I wrote on the keyboard was just several melodies. Rune [Eriksen] took that and created a fully-fledged death metal song with the melodies that I had written. It was really exciting to see that process. I wasn't sure how much he was going to manipulate it, and I'm not confident at all as a musician. I'm not one. It was kind of intimidating. I wasn't sure if Rune was going to write back and say, this is not going to work. But he actually liked it and made a killer song out of it. And that's actually my favorite song. I feel like it's the most collaborative track we had. Flo [Mounier] came up with some crazy ideas for his drumming, and Steve wrote the lyrics for it, so it was a real team effort for the song and I think it's the best one. Basically, this is where my direction was fully articulated. I was really interested in hearing how Rune would play a melody on top of this part, or on top of that part. Everyone came up with some ideas.
How do you define your role with this music?
In the studio itself, the process I wanted was to have everything feed off everything else. The demos of the songs influenced the sketches for the drawings. The direction influenced what the songs were sounding like when they were being recorded. As the songs were being recorded, I was finishing the drawings, which also influenced the lyrics. All that together influenced the music. It's like my involvement is really strange. Some people want to say that I'm the producer of the music, but I don't really think of it in those terms at all. To me, if it had to be particular, I would say maybe I'm a director. I ended up doing a spoken-word thing on the album, so I actually was recorded, but it was nothing compared to the layers of guitars.
In this video, you have this primordial being sloshing around, angry, in this goo. How do his actions relate to the song "Sulffer," where packs of men roam around, looking for the fuel to make them live longer?
I hand built that cave, and it's actually in my studio. I have to take it apart. This song revolves around sulfur, but the best way to describe it is a mad quest for immortality. The figure is kind of a primordial figure, and sulfur is extracted from petroleum. Immortality is an abstract idea, but somehow we strive for it. We always welcome more power, and sulfur is used in preservatives in food. I thought it was interesting that, although it's not part of petroleum, it's something that comes with it, and is used in pharmaceuticals and to preserve food. It's a battle between the protagonist and a reflection of itself, and it's kind of this vicious circle. It's about the failure of never reaching immortality.
What's so interesting about petroleum to you? Why is it so representative in your work?
Most wars are about petroleum, so it's kind of representative of that. Eventually, it's almost like a kind of suicide, but we don't see it as suicide. We are killing our enemy, but in fact we're just killing ourselves. Sulfur is kind of this buffer, this thing that makes us think we can do it.
Obviously, your music has its own effect on the listener, as your visual art does on the person looking at it. What do you hope the common effect between those forms is?
When I was growing up, everyone told me I was an artist because they saw that I drew. And it really influenced how I shaped my personality. I guess I'm trying to get rid of that and try and tap into everything. I really surprised myself, I hope this doesn't come off in any way pretentious, but I was really happy with some of that songwriting stuff that I did. I don't believe in the word "artist" or that an artist is someone different from some other occupation, I think we're all artists and each one can have one thing they reproduce. It can be writing, it can be sculpture, but it could be programming. I see it in a broad spectrum and I really want to tap into all these things.
Why did you move to New York from Egypt?
I moved to New York about six years ago, because I saw its opportunities and certain philosophies that I follow or I like to express. I just wasn't at all that comfortable with Egypt. It's totally different there, being an artist. I've been here many times before as a teenager, visiting some family.
I'd lived in Minnesota before; I came from Egypt to Minnesota. I don't know if you've been to Minnesota, but I can describe it simply as the exact opposite of Egypt. Cairo is a very big melting pot, a very active city, and Minneapolis isn't. It's like they took a couple of blocks from New York City, put them in huge land, and that's Minneapolis. It's a microscopic version of New York. I really needed something in between Minnesota and Cairo, and New York was perfect, it's exactly that. It's in America, and it's got all the great things about this country. It's got lots of people, lots of things happening, lots of events, which also happened in Egypt. I'm just not into the things that are popular there, which is pop culture. I'm not into pop culture really, so over there it gets harder to avoid than here. Here there's just more things to do.
As far as someone who's lived in Egypt all their life, it was just time to move on. Having lived in the States also, you get conditioned. Things that are OK in Minnesota and not OK in Egypt, it got kind of annoying to recondition myself back to going with the flow. I was tired of the flow.
You're going to make a video for every track on In the Flesh, correct? What's your timetable for finishing?
I really don't know. I'm going to take it one at a time, but I don't want to rush it. I have ideas for two videos; it's just a matter of getting the camera and getting it done. I think I'll be done with all of them a year from now.