Premiere: Dan Deacon And Jimmy Joe Roche's "Hilvarenbeek"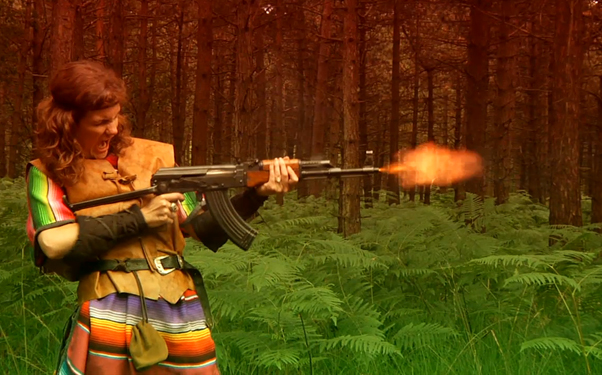 Posted by Brandon Kim on
The last time I checked in to see what Dan Deacon was up to, he was scoring Francis Ford Coppola's Gothic horror film, "Twixt Now and Sunrise." In the meantime, the composer was also busy on a mysterious collaboration with filmmaker pal, Jimmy Joe Roche in the Netherlands. The two collaborated on a short film that evolved out of a three-week residency in Hilvarenbeek, Netherlands, as part of the Incubate arts festival. The script was loose, the hoods were tight, the music was transcendental.
In "Hilvarenbeek," heavily armed crazies who live deep in the forest only need the structures they build in their minds. And when an apocalyptic evangelical maniac (who looks decidedly like Roche) speaks about the dark past, the sunlight filtering through the canopy brilliantly disappears on cue. An old cattle hand waxes about being the boss, in a strange collision of pop culture and surreal narrative.
Amidst all of this, a Druidic Dan Deacon leads his electro-acoustic choir from beneath a gilded organ in a soaring, ethereal anthem.