Playism Helping Indie Games and Crowdfunding Come to Japan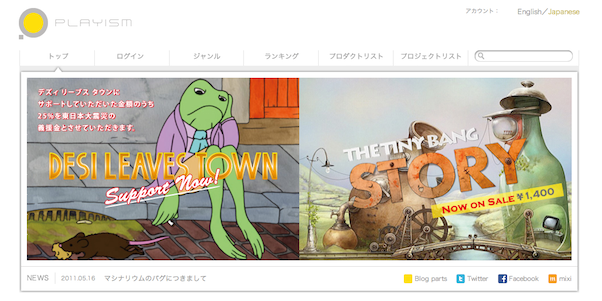 Posted by Evan Narcisse on
Japan's long been the epicenter of video game production and culture. The two of the three major game console companies-Sony and Nintendo-originated there and the combination of manufacturing and consumer electronics development resources made the Land of the Rising Sun dominant for much of the medium's history.
Things are changing, though. Video game development's become vastly more de-centralized, as big publishers work with and foster studios all over the world. And then there's the indie scene, filled with do-it-yourself artists and programmers who totally bypassed traditional business models. They've found audiences on the PC, iPhone, iPad and Android devices via digital distribution and direct sales. Maybe it's the permanence of the idea of rigid, top-down corporate structures being the only way to find one's calling in video games, but the indie game development mindset really hasn't taken off in Japan. There've been instances that have been close, like the idiosyncratic genesis of "Katamari Damacy" from the quirky mind of Keita Takahashi or the involvement of visual artist and DJ Baiyon in "PixelJunk Eden" for the PS3. But, as unique as those games were, they still game through the development pipeline of major studios. It's been far rarer that something's followed in the footsteps of proto-indie "Cave Story," where one guy made the whole thing himself and put it out to the world.
A new service called Playism wants to change all that. Parent company Active Gaming Media is looking to do a two-way indie gaming exchange with Japan and America and other Western countries. The idea would be to bring acclaimed indies like Machinarium to the Japanese market through a dedicated retail site and do the same for Japanese small-dev titles in the West. Active Gaming Media's already established as localization site so they'll handle the translation and presentation concerns involved with moving a game from one region to another. They charge a small fee for this part of the Playism service and will even waive it in certain instances, in exchange for a period of distribution exclusivity.
One of the ways that indie devs have paid for the costs of making their games has been through PayPal donations, paid betas like Chris Hecker's doing with SpyParty or crowdfunding sites like Kickstarter. Playism's endeavoring to set up a space to do the same for doujin games, a Japanese term which refers to amateur, fan-made or hobbyist projects. Crowdfunding's under way for one title called "Desi Leaves Town."
They're also looking to staff up as well, so if you have a passion for indie games and a facility for the Japanese language, visit their English landing page to find out how to get in touch. If AMG's gambit works, it'll create a nice cultural pipeline between indie game creators and players all over the world. Ain't nothing wrong with that.