Music for Fridays: An exclusive premiere of Frank Fairfield's "King's County Breakdown"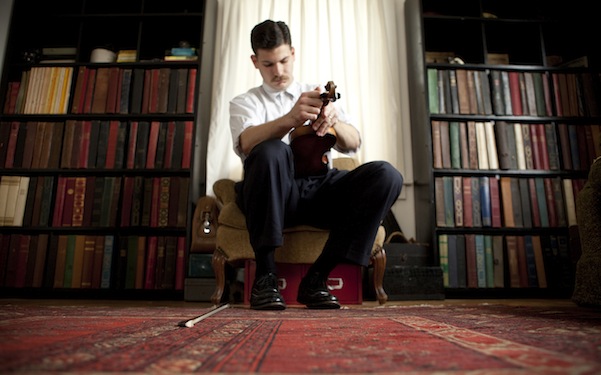 Posted by Grayson Currin on
Note: Each Friday, we'll close with a song we consider a suiting goodbye for the workweek. With each Music for Fridays post, check for a free mp3.
California singer Frank Fairfield is a young performer who seems entirely of another time and place, both in what he plays and how passionately he plays it. It was barely more than a year ago when Fairfield told me he wasn't much of a songwriter, insisting that he tinkered around with melodies and tunes from time to time, but that he wasn't one of the greats–you know, someone like Stephen Foster, he said. Fairfield floored me with every note of his 2009 debut, a collection of perfectly ecstatic and desolate arrangements for songs sometimes more than a century old.
But Fairfield's second album, Out on the Open West, includes a number of originals, and they're mostly pretty great extensions of the histories he's long been translating. One of the best is the spry instrumental "King's County Breakdown," a jaunty tune for the loose-stringed strum of guitarist Tom Marion and Fairfield's jubilant fiddle. Fairfield leads here, putting down the melody and the bowing it to new heights every pass. In a way, "King's County Breakdown" feels like an exultant escape route, a holler-and-smile-and-dance exit from all your troubles. Download the song here.
Out on the Open West is out May 31, via Tompkins Square. Also, watch this trailer for a new documentary about Fairfield.