Five Sports Documentaries We Want To See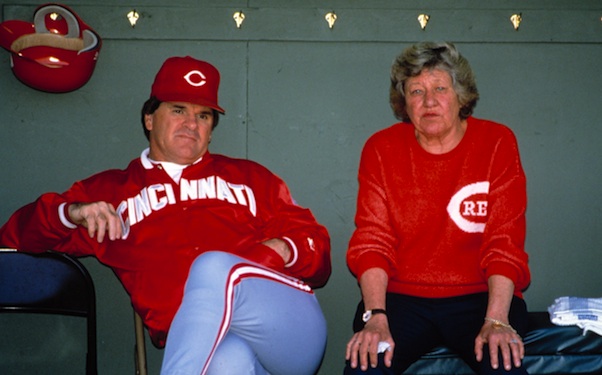 Posted by Matt Singer on
In order to be entered into our contest last week for a trio of copies of ESPN Films' "30 For 30" Volume 2 DVD box set, entrants were required to submit their answer to the following question:
"If ESPN made another batch of 30 documentaries, what subject from the last 30 years of sports would you want to see a film about and who should direct it?"
The ESPN programming executives better watch their backs because the answers we got from readers were uniformly outstanding. As promised, here are a few of the best. I picked five favorites and provided my own additional thoughts for each, and then at the bottom I threw in five more honorable mentions. And by the by, I've emailed the three random winners of the contest, so if you didn't get an email yet from ifcfeed@gmail.com, I'm afraid you weren't picked. But thank you for entering! And now without further ado… five sports documentaries we want to see in a "30 For 30" sequel.
---
1. "WWE performer Chris Benoit murders his wife and child, then kills himself. The doc would be directed by Barry W. Blaustein, who directed the 1997 documentary 'Beyond the Mat.' It would serve as an introduction for Blaustein into the darker side of the industry that he merely grazed, apologetically, in the original work. It would also serve as a great post-script and examination of what became of so many of those people profiled in his original film in the wake of the event. There are some that would argue, correctly, that professional wrestling isn't a 'sport' per se, but the story was covered by ESPN extensively when it broke and for weeks after." — Suggested by Kevin Marshall
True, wrestling isn't a sport. But Benoit's case speaks directly to one of the biggest sports stories from the last few years that wasn't covered in the first "30 For 30" series: the impact of concussions on the brains of professional athletes. Though it's only come into the mainstream recently (in part because of the Benoit tragedy), brain trauma is going to be a major issue in the future of the NFL, the NHL, and possibly even Major League Baseball.
In light of the recent death of Randy "Macho Man" Savage, Benoit could also serve as the entryway to a discussion of the horrific toll professional wrestling takes on so many of its athletes' bodies and psyches. And if he'd be interested in returning to the subject of pro wrestling, Blaustein is a great choice to direct.
---
2. "'Run, Rosie, Run.' No one could believe it when a unknown woman named Rosie Ruiz finished the Boston Marathon with the best time ever without ever being seen. Turns out there were a reason no one saw her… Directed by Kimberly Peirce" — Suggested by Joshua Jenkins
A great topic for a documentary. If you don't know Ruiz's story the reason no one saw her is because she cheated, jumping out of the crowd near the finish line and pretending she ran the entire race. Her ruse was quickly discovered and her title was eventually stripped and given to the rightful winner. Recreating the incident, particularly with interviews from witnesses and participants in the Boston Marathon, and maybe even some insight from Ruiz herself (why in the world would someone do something that would be so easily debunked?), could make for a fascinating documentary. I would have never thought of Peirce — who hasn't directed a documentary — but given her taste for protagonists with deceptive lives, she could be a very interesting pick.
---
3. "Personally, I'd love to see a documentary on Pete Rose (perhaps against the backdrop of other forms of cheating in baseball) as directed by Errol Morris." — Suggested by Nicolas Hume
Pete Rose was the single-most mentioned potential subject for a "30 For 30" sequel and it's easy to see why: he's one of the greatest baseball players who ever lived and also one of the most infamous, banned for life in 1989 following his admission that he had bet on baseball, including games he had managed for the Cincinnati Reds. Given Rose's outsized personality, his incredible accomplishments, and the impact his ban had and continues to have on the game, it's kind of surprising he wasn't the subject of one of the initial thirty films in ESPN's series.
I also like Nicolas' suggestion that Rose's actions might be placed in a larger context about cheating in baseball. Is Rose really that much worse than some of the famous cheaters, racists, and jerks who are enshrined in the hallowed Baseball Hall of Fame? Maybe, maybe not.
Though a lot of people wrote in suggesting Rose, Nicolas was the only person who suggested Morris as the director to make the film, and he seems like the right choice to me. As our greatest living cinematic interviewer, Morris is the guy I would want locking horns with Rose, holding his feet to the fire and searching for the truth. Then again, since the man who banned Rose was Major League Baseball Commissioner Bart Giamatti, if his son Paul Giamatti was interested in making a film on the subject, he would be an insanely perfect fit for "30 For 30″'s preferred method of pairing filmmakers with subjects they have a personal investment in.
---
---
4. "'Exce$$ive BUSH at USC' from director Thaddeus D. Matula. Reggie Bush, Pete Carroll, Mike Garrett and the whole USC "Pay for Play" scandal, with further discussions about all the Division One BCS Universities paying their players. The perfect sequel to the excellent 'Pony Exce$$.'" — Suggested by Roy Rossi
Here's another subject that came up a few times amongst contestants, but I give Roy the nod for his awesome title. If "30 For 30" had been "40 For 40," this one might have made the cut (Bush voluntarily returned his Heisman Trophy a few months ago after the NCAA found he had received "illegal benefits" while in school). If you haven't seen "Pony Exce$$," which is part of "30 For 30 Volume 2," that is Matula's fascinating look at Southern Methodist University's corrupt football program of the 1980s, the first and only school to ever receive the NCAA's "death penalty." So he's got the right background for the material.
On the other hand, there are a lot of great filmmakers who also happen to be USC alumni — from George Lucas to James Gray to Doug Liman — so maybe they would be a better and more personal fit for the material (Matula is an SMU alum). As was the case with "Pony Exce$$," you should only make the film if you can get the guys involved — in this case, Bush and Carroll, as well as the NCAA investigators — to talk on camera about the scandal.
---
5. "In light of the recent Sarah Silverman interview, I think that it is high time for a '30 For 30′ on the Dock Ellis no-hitter on acid. This would be directed by Terry Gilliam. This would be fantastic." — Suggested by Mike Isenberg
I agree and I agree. Technically, Ellis' LSD-fueled no-hitter would be disqualified from "30 For 30" because it took place in 1970, outside the thirty-year history of ESPN that the series was designed to celebrate. But if you were ever going to expand "30 For 30" backwards, Dock Ellis is one guy worth covering.
Mike's explanation basically says everything you need to know — the dude threw a no-hitter while he was tripping balls! — though you can hear more about it from Ellis himself in the great animated short "Dock Ellis and the LSD No-No." And Terry Gilliam as the director of one man's heroic triumph over impossible baseball odds while zonked out of his mind on LSD? Almost too perfect.
---
Honorable Mentions:
"Tiger Woods," directed by Lars von Trier (Suggested by Eric Wheeler)
"Dan Heatley," directed by Rian Johnson (Suggested by Anyaa Carter)
"Bill Walton," directed by Judd Apatow (Suggested by Ray Burns)
"The History of 'ABC's Wide World of Sports,'" directed by the Zimbalist Brothers (Suggested by Brian Silverstein)
"The History of Tailgating," directed by Werner Herzog (Suggested by Jarod Neece)