"Minitroid" Offers All-New Micro-Homage to Nintendo Classic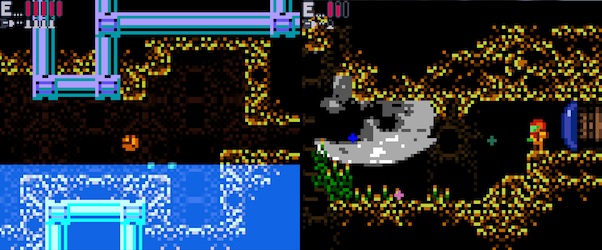 Posted by Evan Narcisse on
Nintendo's got three all-time favorite franchises that excite gamers every time a new installment comes out: "The Legend of Zelda," Super Mario Brothers (anything "Mario," really) and "Metroid." That last one holds a special place in games' hearts by virtue of the ground-breaking recursive design, creepy boss battles and last-minute heroine reveal.
Metroid's become one of gaming's longest-lived franchises, with the latest game "Metroid: Other M" released last year. There's no word yet as to when another official "Metroid" game will come down the pike but fans of Samus Aran's bounty-hunting action may have another option to play with soon.
Built by indie developer Tokinsom, the work-in-progress follows in the footsteps of Metroid games past. "Minitroid" is reminiscent of Ed Fries' "Halo 2600" de-make, especially since both projects started out as ways for their creators to learn hone their development skills. But, as a former Microsoft executive, Fries was able to navigate a unofficial amateur release. "Minitroid" will find it way to users via the emulator grey market, where software programs mimic the hardware of consoles past. Emulators run on nearly every popular handheld gadget nowadays, including Nintendo portables. Nintendo frowns on such unintended use of their technology and characters. It's a shame, really, because it looks like "Minitroid" is the kind of labor of love that would please fans of old-school games.