"Louder Than a Bomb," Reviewed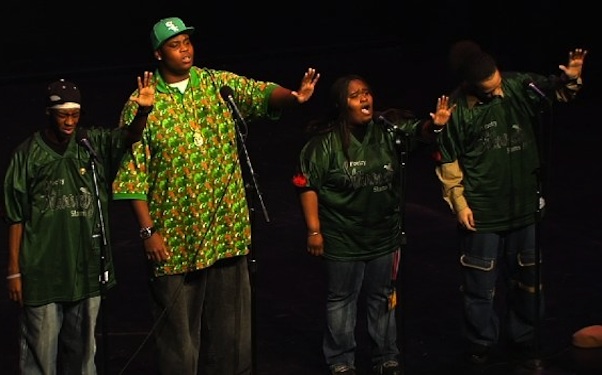 Posted by Matt Singer on
I own hundreds of books and not a single one of or about poetry. I have no favorite poets or poems. I can't and don't write poetry. Basically, there are few things I enjoy less in this world than poetry, something that will probably come as no surprise to anyone familiar with the assortment of poop jokes, "Seinfeld" references, and comic book-isms that I call writing. I am such a Philistine, I may as well be from Philistia. I say this not to boast (I'm frankly a little ashamed), but so you understand my approach to the documentary "Louder Than a Bomb," a film about high school poets. And that approach was this: an open mind and complete and total disinterest. So if this movie can win me over, it can win anyone over.
This movie won me over.
And, yes, much of these kids' poetry is good; some of it very good, some of it transcendently good. But even before I connected with their words, I connected to their struggle, which is a universal one for kids of a certain affliction, namely awkwardness, sensitivity, empathy, a love of art, and all the assorted other characteristics that make certain kids outsiders. Some of the teenagers in the film come from privilege, others from poverty. But they all share the same passion to find their voice and their place in the world. I could relate to that. I never wrote poetry in high school — other than that really awkward one about Spider-Man written from the perspective of his identical clone — but I could relate to that.
The film's structure will look familiar to anyone who's seen "Spellbound," "Wordplay," or any of the other recent documentaries about the fascinating and sometimes eccentric personalities that coalesce around unusual intellectual competitions. In this case that competition is Louder Than a Bomb, the world's largest high school poetry slam contest. Directors Jon Siskel and Greg Jacobs focus on four students from four different high schools battling for top prize, exploring their lives and motivations and then follow their journey through said competition. I don't know how they found this topic or selected their subjects, but they did a phenomenal job. These kids are brilliant, charming wordsmiths, passionate performers and wise beyond their years.
My favorite was Nate Marshall, who truly embodies LTAB's philosophy that "the point is not the points; the point is the poetry." Marshall, from "as South as you can possibly be" in South Chicago, in a neighborhood where he can stand in one place and point out the places where he's been jumped, has spent six years competing in poetry slams, not for the adulation or thrill of victory, but for the sheer love of the art form. Now in his senior year of high school, Marshall worries less about his chance to finally win Louder Than a Bomb than instilling his passion for and knowledge of slam in the next generation of poets at his school, Whitney Young Magnet High. In the way that he generously gives to others, cares for his family, acts as surrogate father or big brother or uncle for whoever needs him, and expresses himself with beauty and clarity, Marshall is an mensch. I've got maybe a dozen years on this kid and sat watching him in this film, jaw dropped, eyes moist, thinking to myself, "I want to be Nate Marshall when I grow up."
I would bet that most people who see this film will feel a similar way. My only critique of Siskel and Jacobs' work would be their time management. Any slam poet knows pacing is key, and Siskel and Jacobs' isn't always ideal. They follow four high schools, but they lose a couple of them for long stretches of the film. Their clear favorites are Lamar Jordan and the rest of the team from Steinmetz High, who channel their experiences living in a rough neighborhood into poems of startling ferocity. I suppose the Steinmetz team is the most cinematic — they suffer from the worst bouts of writers' block and have the most intense battles with their coach — but they also seem to unbalance what begins as an ensemble film. The young men and women of Steinmetz are fantastic, but I would have liked to have seen more of Nate Marshall, Nova Venerable from Oak Park and River High (who uses poetry to release all of her rage about her alcoholic father and to share all of her love about her diabetic, autistic brother), and Adam Gottlieb from Northside Prep (an ebullient personality with another wise-beyond-his-years perspective on life).
A full half of this 100 minute movie takes place during the various rounds of Louder Than a Bomb. Siskel and Jacobs' approach isn't overtly cinematic — there aren't tons of angles or quick cuts or elaborate camera movements — but the poets and poems themselves are. As I listened to these teenagers express themselves, I realized how rarely you get to hear a poet read their own work outside the world of poetry slams. Even for someone as allergic to poetry as I am, it felt like a privilege to get to witness that, and to see young people take the disadvantages they've been handed by life and flip them into advantages.
That's what Nate and the rest of his peers do. And they do it not to win, but to inspire and be inspired. Some of the characters are more obsessed with winning than others, but by the end they all realize the friendships they've made and art they've witnessed transcends where they placed in the competition. Remember, at Louder Than a Bomb the point is not the points, the point is the poems. In "Louder Than a Bomb," poems aren't the point either. The point is the poets.
"Louder Than a Bomb" opens Wednesday in New York City.