Lars von Trier Banned From Cannes For Anti-Semitic Comments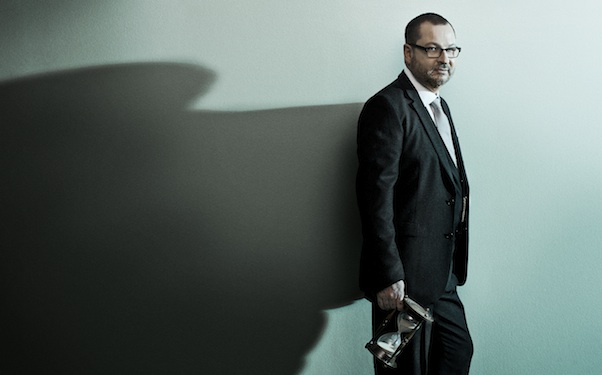 Posted by Matt Singer on
It began with a film about the end of the world. Now it's the end of Cannes for one filmmaker.
In the wake of his anti-Semitic comments (or just really tasteless anti-Semitic jokes), director Lars von Trier has been banned from the Cannes Film Festival. Here is Cannes' official statement on the subject:
"The Festival de Cannes provides artists from around the world with an exceptional forum to present their works and defend freedom of expression and creation. The Festival's Board of Directors, which held an extraordinary meeting this Thursday 19 May 2011, profoundly regrets that this forum has been used by Lars von Trier to express comments that are unacceptable, intolerable, and contrary to the ideals of humanity and generosity that preside over the very existence of the Festival.

The Board of Directors firmly condemns these comments and declares Lars von Trier a persona non grata at the Festival de Cannes, with effect immediately."
This despite the fact that von Trier had already issued an apology for the remarks, which came at the Cannes press conference for his new apocalyptic film "Melancholia." Steven Zeitchik from The Los Angeles Times got further apology and explanation during his interview with von Trier:
"I'm really sincere when I say I don't really know what hit me. I can understand if you take things out of context. This was very sarcastic and very rude, but that's very Danish. I'm very sorry that it's being taken the wrong way… I must say that I believe strongly that the Holocaust is the worst crime against humanity ever, and I do not sympathize with Hitler one second."
von Trier definitely went too far with his first comments, but now we have to wonder: did Cannes go too far with its response? What von Trier said was titanically stupid; even if it wasn't meant seriously (and I don't believe it was) it has to be one of the worst jokes in history. And this wasn't something said privately to a friend within earshot of a journalist, it was said at a scheduled press conference in front of basically the entirety of the international film press. To say something like that, in a place like that, even to provoke, is so dumb that to some degree von Trier deserves whatever punishment he gets.
But as many point out — as Cannes' own press statement points out — Cannes is supposed to be a place dedicated to free expression. And within 24 hours of von Trier's awful comments, Cannes welcomed Mel Gibson — no stranger to awful comments himself — to walk their famous red carpet in support of his movie "The Beaver." Gibson has a history of anti-Semitism; so why is he okay and von Trier is not? It can't be because he apologized; von Trier apologized too. Or what about a filmmaker like Roman Polanski, who hasn't simply said controversial things; he's been convicted of committing actual crimes. But he's welcome at Cannes; his film, "The Pianist" (about the Holocaust, he says, bringing things full circle) played the festival in 2002.
I was pretty offended by von Trier's comments, to paraphrase a line from "Seinfeld," less as a Jew than as a comedian. I said yesterday I didn't expect an apology; but we already got one. It's not like he apologized while getting a swastika tattooed on his forehead or something. von Trier may not be the best public speaker, but he is one of the best filmmakers, and I don't think he or his films are truly anti-Semitic. He doesn't deserve to be banned from the Cannes Film Festival. So here's a compromise: ban him from having any more dumb press conferences, and let the movies speak for themselves.