L.A. Noire DLC Offers More Drugs, Sex and Murder This Summer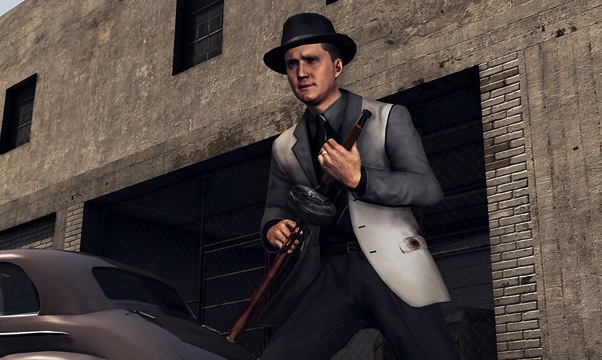 Posted by Evan Narcisse on
"L.A. Noire" is one of those games that pulls you in. Once you learn its input language, you kind of glide through it and spend enough time with Cole Phelps and his various partners. You'll grow a real, surprising connection to the virtual Los Angeles of 1947. You get to feeling like a righteous crusader, inveigling the truth out of the liars and murderers of the game's lurid cases. But, eventually you'll reach the last mystery on the release's third disc and think wistfully about the collection of drunks and ne'er-do-wells you sent to the big house.
But you're not going to need to hang up your fedora just yet. Rockstar Games has announced that they'll be offering up a slate of downloadable content that adds new suits, firearms and–most importantly, cases–to Cole Phelps' workload. Suits increase Cole's accuracy with certain weapons, which will come in handy for these new cases. The first chunk of all this new DLC hit today in the form of the following:
• "The Naked City" DLC case
• "A Slip of The Tongue" DLC case
• Broderick Detective Suit and Gun
• Sharpshooter Detective Suit and Gun
• The Badge Pursuit Challenge
• Chicago Piano Machine Gun
You get the Chicago Piano machine gun as a free unlock. The individual cases, challenges and suits will cost $4, $2 and $1. More DLC will become available over the summer with an Nicholson Electroplating Disaster" arson case and a "Reefer Madness" case on the vice desk coming on June 21st and July 12th respectively. All told, you'll be spending $20 to get the complete set of extra "Noire" goodies but signing up for the new Rockstar Pass right away gets players 50% off the whole kit and kaboodle. The pass works as a bulk pre-order which, once purchased, automatically downloads the new DLC once it becomes available.
Full details are here on the official Rockstar site. So, how many of you police dicks will be signing up for overtime when the "L.A. Noire" DLC hits this summer? Let us know in the comments below or on Facebook or Twitter!